Online luxury retailer Yoox Net-a-Porter Group has announced a joint e-commerce venture with Symphony Investments, an entity controlled by Mohamed Alabbar, to create the Middle East's "undisputed leader in online luxury retail."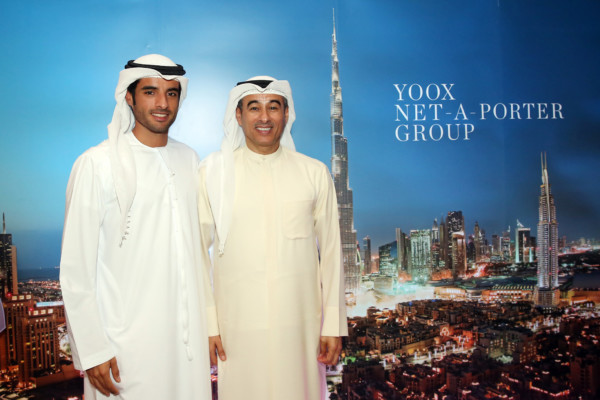 The partnership will see Mohamed Alabbar focus his entire online luxury retail activity in the region exclusively through the new joint venture.
YNAP will hold a 60 percent stake in the joint venture (JV), which will be fully consolidated in YNAP's accounts, while Symphony Investments will own the remaining 40 percent.
The JV will manage all of the Group's existing multi-brand online stores in the region – Net-a-Porter, MR Porter, Yoox and The Outnet. The new company will operate within the GCC countries and may expand to other countries in the Middle East and North Africa in the future.
"The Middle East is one of the fastest growing global centres for luxury retail. The region also has a significant population of over 200 million young people who are tech-savvy and influence luxury retail decisions," said Mohamed Alabbar, Chairman of Symphony Investments. "With this joint venture to be based in Dubai, a global business and leisure hub, we are pioneering a never-before online luxury retail experience that integrates luxury with techno-logistics. It will redefine the retail sector, and create a brand-new way to access the world's high-end brands brought by YNAP. A ground-breaking initiative, the JV will serve as go-to online destination for luxury retail and set new industry benchmarks in customer service, speed of delivery and diversity of choice."
The JV will open the local office and distribution centre in Dubai by end of 2017. Yoox and The Outnet will debut in 2018, while Net-a-Porter and MR Porter will launch in 2019, followed by select Online Flagship Stores.
According to both organisations, the JV further strengthens an existing relationship that was forged when Alabbar invested in YNAP through subscription for a EUR 100 million capital increase in April 2016.
Symphony Investments, along with its affiliates, operates and invests in businesses in the Middle East, Southeast Asia and Africa across a variety of sectors including luxury fashion, retail, e-commerce, mining, and real estate, among others.
Alabbar also made significant investments that are in line with digital transformation in the Middle East with the recent launch of Noon.com, which aims to be a generalist e-commerce platform that will include payments and logistics enablers. He also led two investor groups in buying a combined 16.45 percent stake in Dubai-based global logistics provider Aramex.
"We are thrilled by the potential of the Middle East market: combining YNAP and Mohamed Alabbar's strengths, we look forward to giving shoppers in the region access to a fantastic luxury assortment with our unparalleled service and content. We were delighted to welcome Mohamed Alabbar as a strategic investor earlier this year and together we are now embarking on a major expansion in the region," said Federico Marchetti, Chief Executive Officer, Yoox Net-a-Porter Group.
To provide Middle Eastern luxury customers with a fully localised offer, the JV will establish on-the-ground operations. In addition, the it will see a new distribution centre open in Dubai powered by YNAP's omni-stock techno-logistics platform to guarantee the highest level of service, including premier same-day delivery; and the development of a localised offering ranging from Arabic-language customer care and content, as well as local currency and payment methods.
The joint venture will have an indefinite duration; however, the agreement allows Symphony Investments to exit the JV after a few years of operations. In addition, the agreement envisages that YNAP will have the right to exercise a call option on Alabbar's stake during pre-defined time periods.
Yoox Net-a-Porter will appoint the majority of the JV's Board of Directors and will nominate the Chief Executive Officer and the Finance Manager. The Chairman of the board will be appointed by Symphony Investments.