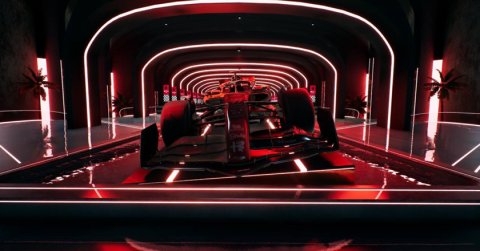 Alfa Romeo F1 Team today announced the continuation of their cooperation with Everdome, the Mars themed hyper-realistic metaverse experience project, as they continue to explore new synergies between sports and future technologies.
Their initial collaboration was confirmed in spring of 2022, with Everdome developing an Alfa Romeo F1 Team branded metaverse experience which debuted at the Abu Dhabi Grand Prix in November of the same year.
This ongoing partnership between Everdome and Alfa Romeo F1 Team will see the Everdome team creating multiple VR experience activations, first demonstrating their hyper-realistic metaverse adventure during the Saudi Arabian GP.
The event in Jeddah is just the first in a series of activations coming up across multiple races globally, as two Everdome's VR experience sets become part of Alfa Romeo F1 Team logistics, traveling with the team around the world.
Everdome will also expand and update their 2023 experience for Alfa Romeo F1 Team to include the 2023 season car, while new additions coming soon to the experience itself include a virtual representation of the Alfa Romeo F1 Team garage.
The bespoke metaverse experience created exclusively for Alfa Romeo F1 Team demonstrates a new future of sports engagement between brands and their audience, allowing team fans to interact with Alfa Romeo F1 Team in a virtual environment.
Commenting on the partnership, Alessandro Alunni Bravi, Alfa Romeo F1 Team Stake Representative said: ''We are delighted to continue our exciting collaboration with Everdome: the interest around the metaverse is quickly rising, and their hyper-realistic approach in creating their metaverse platform fits closely with our ambitions to offer our fans new, immersive, and high-quality experiences, getting them closer to our team. Everdome plans to transform the way people consume sporting events while raising the bar for fan engagement; all of this will add a futuristic dynamic to the traditional motorsports experience for racing teams and fans alike, and we are thus looking forward to working together and unlock the full potential of our partnership I'm excited to see Everdome's platform live in the Formula One paddock for the first time, this weekend, and to see our team's world come to life in the metaverse as the season progresses".
Artur Kaczmarczyk, Everdome's Chief Growth Officer said: "We are delighted to continue our partnership with the Alfa Romeo F1® Team, as the synergy between the quality of engineering involved in Formula One and the hyper-realistic standard of the metaverse experience we build is clearly apparent. Everdome positions itself at the high-fidelity and premium part of the metaverse experience market, which makes a perfect match for the ultra-high engineering and performance standards demanded by Formula One".
Everdome's 2023 will see some exciting new developments for the partnership, as they build on the previous years' experience to bring motor racing fans into a totally new and unique way to experience the Alfa Romeo F1 Team and brand.