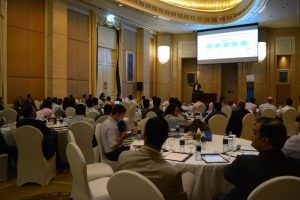 The systems integrator collaborates with Citrix and Microsoft to highlight its strength in integrating solutions.
 Alpha Data, one of the longest-standing systems integrator in the UAE, delivered a keynote presentation at 'Digital Workspace on Azure' event, organised by the firm and held recently at St. Regis in Abu Dhabi. The company has collaborated with its key partners such as Citrix and Microsoft to showcase its digital workspace solutions to highlight its strength and capability in integrating solutions and delivering them to customers.
Digital Workspace Solution powered by Citrix is a robust, feature-rich and sustainable solution that effectively and efficiently addresses diverse organisational needs. It is available in various verticals with Mobile Application Development, Mobile Frameworks, and creation of Enterprise Application Stores.
Amar Singh, sales director, Alpha Data said, "Alpha Data's Digital Workspace solutions are designed to be provisioned and delivered on Microsoft Azure cloud platform as well. It can help organisations reduce overall IT costs and increase efficiency through its collection of integrated cloud services, including analytics, computing, database, mobile, networking, storage and web. 'Digital Workspace on Azure' is a leading solution that provided an effective, secured end user platform which helped improve productivity."
Alpha Data specialises in innovative mobile strategies to provide map and gap analysis, impacts/ROI analysis, and process re-engineering. It provides custom developed application, app designs, integration with legacy systems, and project management. The systems integrator also offers a cloud computing platform to host mobile applications and accelerate mobility deployment with Alpha Cloud.