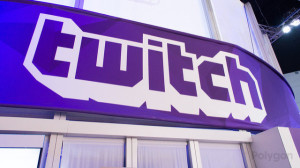 Amazon will pay $970 million to acquire Twitch, a site for live video broadcasts of people's video gaming sessions.
Amazon said in a statement it would pay $970 million in cash to acquire all outstanding shares of Twitch, in a deal that CEO Jeff Bezos said would let Twitch build new services for the gaming community. The price will be adjusted for the assumption of options and other items, Amazon said.
"Like Twitch, we obsess over customers and like to think differently, and we look forward to learning from them and helping them move even faster," Bezos said in Amazon's announcement.
The acquisition is expected to close by the end of the year.
It gives Amazon a big platform for streaming video. Founded in 2011, Twitch was ranked fourth in U.S. peak Internet traffic in February with a 1.8 percent share, according to data from DeepField. Twitch says its site last month attracted more than 55 million visitors who watched more than 15 billion minutes of content produced by more than 1 million people.
Twitch generates revenue both by placing ads within its videos and through a subscription program for watching videos. The site lets people upload their video game sessions from their PCs and from consoles such as the Xbox and PlayStation 4.
Beyond hosting video of games themselves, Twitch has also served as a digital venue for events such as the gaming competition The International and the gaming conference E3.
The acquisition marked a surprising development for Twitch, which reportedly had been in talks with Google to be acquired for some time. But those talks cooled in recent weeks, according to earlier reports.
Acquiring Twitch gives Amazon deep access to a massive base of loyal gamers and streaming-video users, who could become lucrative targets for advertising.
Amazon also may be looking to integrate Twitch content into its growing lineup of hardware devices, such as its new Fire phone and Kindle tablets. It could become a way for Amazon to draw gamers into other Amazon services as more gamers gravitate toward mobile devices and away from consoles.
Also, with Amazon Web Services for cloud computing, Amazon seems poised to provide a robust infrastructure for Twitch to continue its growth.
Originally published on
IDG News Service (San Francisco Bureau)
.
Click here to read the original story.
Reprinted with permission from
IDG.net
. Story copyright 2018 International Data Group. All rights reserved.