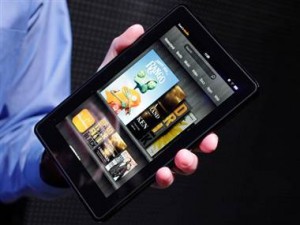 Amazon unveiled its tablet computer, the US$199 Android-based Kindle Fire, yesterday during a Manhattan launch event.
The Wi-Fi-only tablet has 8GB of storage, with a 1GHz dual-core Texas Instruments' OMAP (Open Multimedia Application Processor), while the display is backlit LCD with a resolution of 1024 x 600, Amazon said.
The Fire has a 7-inch multitouch LCD display and weighs 14.6 ounces. It has apps for Amazon storefronts, including its Android app store, MP3, video and cloud services, the company added.
Unlike iPad 2 and other competitors, the Fire does not have a camera or microphone, but its price and Amazon's proven content will undoubtedly make it a serious threat to steal market share, analysts said. It comes with free cloud storage for data back up, it was said.
The Kindle Fire was available for preorder starting yesterday, and will begin shipping on Nov. 15.
"This is unbelievable value," said Amazon CEO Jeff Bezos, during the launch event. "These are premium products at non-premium prices."
"The device will have access to content on Amazon's site such as 100,000 movies and TV shows, 17 million songs, apps, millions of books and full-color magazines," Bezos said.
Bezos demonstrated a high-definition movie playing on the tablet, and the Fruit Ninja game being played. The display can show 16 million colors and is based on Gorilla Glass technology for extra protection, Amazon said.
TI's dual-core OMAP processor is based on an ARM processor design, which is found in most tablets today including Apple's iPad, it added.
Analysts were pleasantly surprised by the price.
"The price seems to be right," said David Daoud, research director at IDC.
Kindle Fire is the second major $199 tablet unveiled after Lenovo announced the $199 Ideapad A1 tablet earlier this month. "The specifications are good, and could get more users to buy the device compared to other Android tablets," he said.
"Amazon, being a content company, that's going to add value to the tablet market," Daoud said.
Michael Gartenberg, an analyst at Gartner, said the tablet was a media consumption device at an aggressive price point, and could drive tablet adoption. "While the Kindle e-book reader is a good way to bring access to e-books, the Kindle Fire is a good way to bring access to other media offered by the company,"Gartenberg said.
"For 15 years we've been building our media business," Bezos said. "We have strong digital offers in every media category."
Amazon's media content can already be watched on TVs, Blu-ray drives and other devices. The songs downloadable through the site are priced starting at $0.69 and can be streamed through the Cloud Player. Apps from Amazon's App Store can be test driven in a sandbox prior to download.
Kindle Fire joins a crowded tablet market dominated by Apple's iPad, which is projected to have a 73.4% market share by the end of the year, according to research firm Gartner. Gartner expects worldwide tablet sales of 63.6 million units this year, a 261.4% increase from the previous year. Tablet sales should reach 326.3 million units by 2015, Gartner said.
"The competitive pressure will be on other Android tablet makers more than the iPad," Daoud said. Android tablet makers are mostly hardware makers and lack software and services, and being a content and e-commerce enabler, Amazon is moving the needle forward for Android tablets, he said.
"Apple has a big user base, so the jury is out on how this tablet will impact the iPad," Daoud said.
Amazon's tablet could become the "only credible iPad competitor in the market," said Sarah Rotman Epps, senior analyst at Forrester Research. "Amazon's Kindle e-readers and online store already are popular, and Amazon will use its entertainment offerings and cloud infrastructure to boost the tablet's appeal," she said.
Amazon offers 100,000 movies and TV shows through its instant streaming service via deals with CBS, NBC Universal, Sony, and Warner Bros, Amazon reps said. On Monday, Amazon and Fox forged a deal to deliver TV shows and movies through Amazon's streaming service. In addition to which, Amazon said that it  offers 950,000 e-books that can be instantly downloaded or read through the Kindle Cloud service. Amazon also offers the Cloud Drive service, in which users get 5GB free to store music, videos, photos or documents, and the Cloud Player music streaming service, reps added.
The iPad has an attractive user interface and cohesive set of software, entertainment and services, which has given it an edge over rivals such as tablets based on Google's Android OS.
Adoption problems have dogged Android tablets because of high prices and lack of software and services. "But Amazon could sell 3 million to 5 million tablets by the end of the year, given the price of the Kindle Fire," Epps said, before the price was publicly known. She said then that if Amazon priced its tablet under $300 it could reach those numbers.