Apple's chief executive Tim Cook said developers using its platform in China have earned a total 112 billion yuan ($16.93 billion), representing roughly a quarter of total global App Store earnings, CNBC has reported.
Cook shared the data on Sunday during a speech at China's top public cyber policy forum, organised by the Cybersecurity Administration of China (CAC), which oversees internet regulation including censorship.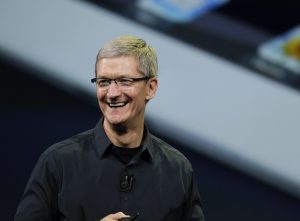 Earlier this year, Apple said that developers had earned roughly $70 billion in total revenue through the store.
CNBC cays Apple is facing criticism from local users and rights groups for bowing to pressure from Beijing cyber regulators after it decided to remove hundreds of apps from its Chinese store this year, including messaging apps and virtual private network (VPN) services, which help users subvert China's Great Firewall.
Apple counts China as its third-largest region by sales but it has lost market share in recent years as high-end handsets from local rivals continue to gain traction. The firm is hoping to regain momentum following the release of its iPhone 8 and iPhone X models which shipped in November.
The U.S. tech giant said earlier it had moved its Chinese cloud data onto the servers of a local partner in the Chinese province of Guizhou.