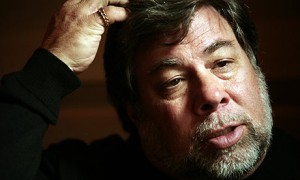 Apple co-founder Steve Wozniak has spoken about his concerns regarding the cloud after a special performance of Mike Daisey's monologue.
Wozniak took to the stage last night following Daisey's penultimate performance of his controversial one-man show The Agony and the Ecstasy of Steve Jobs, for a Q&A session with the audience. He revealed that he thinks the cloud is going to be "horrendous," reports Agence France-Presse.
"I really worry about everything going into the cloud. I think it's going to be horrendous. I think there are going to be a lot of horrible problems in the next five years," said Wozniak.
"With the cloud, you don't own anything. You already signed it away. The more we transfer everything onto the web, onto the cloud, the less we're going to have control over it," he added.
Daisey created a media storm earlier this year after his monologue accused Apple of ill-treating its factory workers in China. The accusations of employee mistreatment were reported in The New York Times, and were features in a This American Lifer podcast, which was later retracted after some of Daisey's claims were found to have been fabricated.
After last night's performance of a revised version of the monologue, Wozniak said: "We know we (citizens and consumers) have a voice. We can speak (about labour condition), but we can't act like, oh, Foxconn is bad or Apple is bad."
To that, Daisey responded: "I hear what you're saying about the fact that everyone goes through evolution, but its not as if the evolution was natural in the sense that we are the ones who brought the jobs there."
Wozniak has spoken about his cloud concerns previously, during a Q&A session with fans in July. "We don't own anything on the cloud," he said. "We've probably signed away any rights. It's a move toward licensing (great for monopolies) instead of you buying and owning stuff. Since you don't own it, it can disappear or change with no warning."