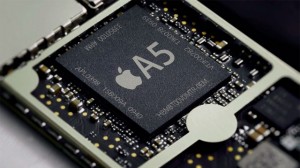 Apple is said to have closed the door on Samsung as its chip designer, according to a series of reports.
Reports last week stated that the new iPad 5 would see LG Display and Sharp provide the display, the ITO film will be provided by Nitto Denko and Teijn, and the touch panels will be assembled by TPK. It appeared that Samsung were well and truly out of that equation, and now a report has appeared claiming that Apple has fired Samsung.
The Korea Times claims Apple has closed the door on Samsung, shutting them out of the design of the A7 processor expected to appear in new iPads and iPhones.
A Samsung executive told Korea Times, "Apple is sharing confidential data for its next A7 system-on-chip (SoC) with the Taiwan Semiconductor Manufacturing Company (TSMC). TSMC has begun ordering its contractors to supply equipment to produce Apple's next processors using a finer 20-nanometre level processing technology."
Another Samsung official said, "Apple is cutting the use of Samsung displays for its products. Now the deterioration of ties has expanded to chips. You should remember that the application business is one of Samsung's new growth engines in which the firm is heavily investing."
The official added, "If Samsung fails to win Apple orders for A7 chips, then some of Samsung's system chip-manufacturing lines will be stopped. That's a scenario Samsung really doesn't want to see."
The report claims that the work will go to TSMC (The Taiwan Semiconductor Manufacturing Company).
There have been claims for some time that TSMC will take on chip building for Apple from Samsung. TSMC is the largest contract chip manufacturer in the world. Apple is already designing products based on TSMCs 20-nanometre specifications, according to industry sources.
Apple is trying to distance itself from its reliance on Samsung. The Californian firm is thought to be looking for new partners to supply some of the parts that Samsung was providing, including the screen and memory chip. Samsung and Apple have been at war, with each company saying that the other has stolen its patented technology.
News that Apple is looking for alternative suppliers suggests that the outcome of the Apple versus Samsung California trial could cost Samsung far more than it is supposed to pay Apple for infringing its patents.
According to the Korea Times report, the A7 chip won't actually appear in iPads and iPhones until the first half of next year.