Apple has introduced the iPhone 7 and 7 Plus, which claim to be "the best, most advanced iPhones ever, packed with unique innovations that improve all the ways iPhone is used every day."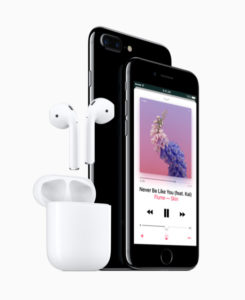 The new model features an advanced camera system alongside "the best battery life ever in an iPhone," immersive stereo speakers, wide colour system from camera to display, two new finishes, and is the first water and dust resistant iPhone.
"iPhone 7 and iPhone 7 Plus dramatically improve every aspect of the iPhone experience, reaching a new level of innovation and precision to make this the best iPhone we have ever made," said Philip Schiller, Apple's senior vice president of Worldwide Marketing. "The completely redesigned cameras shoot incredible photos and videos day or night, the A10 Fusion chip is the most powerful chip on any smartphone while delivering the best battery life ever in an iPhone, and an entirely new stereo speaker system provides twice the sound, all within the first water and dust resistant iPhone."
The 12-megapixel camera on both iPhone 7 and iPhone 7 Plus includes optical image stabilisation, a larger ƒ/1.8 aperture and 6-element lens hoping to enable brighter, more detailed photos and videos.
The new custom-designed Apple A10 Fusion chip has four cores, integrating two high-performance cores that run up to "two times faster" than iPhone 6, and two high-efficiency cores that are capable of running at just one-fifth the power of the high-performance cores. Both phones include support for up to 25 LTE bands and LTE Advanced for "three times" faster data rates than iPhone 6 at up to 450 Mbps.
New stereo speakers claim to offer sound that is "two times louder than iPhone 6s." The new iPhone comes with EarPods with Lightning connector, as well as a 3.5 mm headphone jack adapter that allows customers to use old headphones and accessories. AirPods, Apple's innovative new wireless headphones, are available from October.
"The most important overhaul in the iPhone 7 is the removal of the headphone jack, bringing us one step closer to a life uncluttered by wires," said Nadeem Khanzadah, Head – OmniChannel Retail, Jumbo Group. "Lightning earbuds, as well as an adapter for traditional headphone jacks, will be included in the box. Furthermore, Apple fans in the UAE, particularly those who are music lovers, will love the new truly wireless AirPods. What makes it different from other Bluetooth earphone devices is how Apple reinvents the wireless experience by interweaving the AirPods with Siri through motion accelerators."
The iPhone 7 and iPhone 7 Plus come in two all-new black finishes, as well as silver, gold and rose gold. An entirely re-engineered enclosure results in a water resistant iPhone offering protection against spills, splashes and dust.
An all-new, solid-state Home button is designed to be durable and responsive, and working in tandem with the new Taptic Engine, provides more "precise and customisable" tactile feedback.
Both devices will be available in more than 25 countries – including the UAE – beginning Friday, September 16. Pre-orders start September 9.