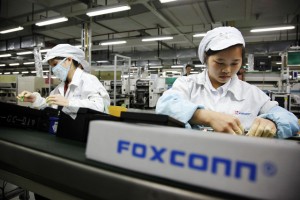 Apple's manufacturing partner Foxconn has come under fire again, this time it is the subject of a bribery probe by the Chinese authorities.
The Wall Street Journal has received a statement from Foxconn parent company Hon Hai, regarding claims that Foxconn employees are bribing supply chain companies.
Hon Hai said: "We are working with law-enforcement officials who we brought in to work with our own internal audit team as part of an investigation into allegations against a number of Foxconn employees related to illegal payments from supply-chain partners. We are also carrying out a full review of our policies and practices to identify steps we can take to strengthen such measures to further mitigate against such actions."
Foxconn has come under scrutiny over worker conditions at its factories.
Apple CEO Tim Cook is visiting China for the second time in ten months.