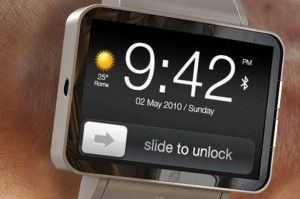 According to a number of reports, Apple is experimenting with watch-like wearable devices with some smartphone capabilities, as the company looks at new product categories to populate.
Apple has discussed the design with manufacturing partner Hon Hai Precision Industry, also known as Foxconn, which has been working on technologies that could be used in wearable devices, The Wall Street Journal reported on Sunday, citing people briefed on the effort.
It is not clear what capabilities Apple is exploring for its wearable, according to the report, which quoted unnamed analysts and investors as predicting the company would release a product with many different functions, which would work closely with the iPhone.
Apple has been exploring the area for some time, and has hired employees with backgrounds in sensors and related technologies in recent years, according to the report.
Earlier on Sunday, The New York Times reported that Apple is experimenting with wristwatch-like devices made of curved glass, again citing unnamed sources. The watch would operate on Apple's iOS platform, two people said, and stand apart from competitors based on the company's understanding of how such glass can curve around the human body, the newspaper reported.
Apple did not immediately comment on the reports.
It has been speculated for months that the maker of the iconic iPhone and iPad devices may look at wearable devices including watches. The so-called iWatch will fill a gaping hole in the Apple ecosystem, and be the hub to facilitate and coordinate the activities of all the other computers and devices we currently use, and a wide array of devices still to come, wrote former Apple designer, Bruce Tognazzini, in a blog post last week.
"Like other breakthrough Apple products, its value will be underestimated at launch, then grow to have a profound impact on our lives and Apple's fortunes." said Tognazzini, who said his post was not based on insider information, but on "a solid understanding of Apple, its products, the problem, and the opportunity."
Apple's share of the tablet market has continued to drop in the fourth quarter of last year, on account of strong competition from Samsung Electronics and other players, according to research firm IDC. Apple shipped 47.8 million iPhones in the quarter, but its hyper-growth has ended, and its market share is expected to peak at 22 percent in 2013, ABI Research said. There is speculation that Apple will look for growth in new product categories, as well as in lower-cost versions of the iPhone to address emerging markets.
Some companies have previously experimented with wearable technologies, including watches. Microsoft, for example, launched a smart wrist watch around a concept called Smart Personal Object Technology it unveiled in 2002, but withdrew it after a lacklustre performance.