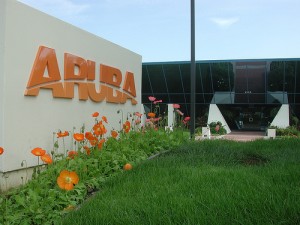 Aruba Networks has released new software for its WLANs that it claims will provide "airtime fairness" to all clients and offer predictable performance and fast recovery to the mobile industry.
The company said that the ArubaOS 6.1.3.4 for Aruba mobility controllers addresses the issue of ensuring high performance and minimum downtime for large-scale mobility networks that must accommodate a growing number of mobile devices and real-time mobile applications.
"As the number of mobile devices on the network increases, less bandwidth is available. The result is unpredictable bandwidth allocation for individual clients, dropped Wi-Fi connections and failure of data transfers. With our approach to airtime fairness and the new ArubaOS, no single group of clients can monopolise network resources over another," the company said.
A recent high density Wi-Fi benchmark test held at the Aruba Proof-of-Concept lab using a variety of client devices including smartphones, tablets and laptops in different quantities and configurations, showed that Aruba's WLAN delivered up to four times better performance than a Cisco WLAN and three times more AP capacity.
In addition to performance, a key concern for enterprises as they expand their mobility networks is rapid recovery in the event of network failure.
"Traditional wireless LAN solutions can take up to 60 seconds for a single access point to recover, resulting in downtime for network users and higher maintenance costs for the enterprise. With this latest software release, our WLAN can ensure recovery up to seven times faster than Cisco WLANs," Aruba claimed.
Aruba has said that the produce ensures that clients and applications such as Microsoft Lync, Apple FaceTime, unicast and multicast video continue to perform flawlessly and without interruption.
"Our wireless LAN – the first to achieve Wi-Fi qualification for Microsoft Lync Server – automatically identifies, prioritises and protects Unified Communications (UC) applications in the presence of Wi-Fi congestion, resulting in up to 75% better quality for these applications," it said.
Regional Medical Center at Memphis (The MED) is a regional healthcare resource that has benefited from Aruba's approach to wireless LAN resiliency.
"Our medical staff has an expectation of always-on wireless and always-available access to critical patient information," said Tony Alphier, director of IT, Regional Medical Centre at Memphis (The MED).
"As we continue to increase the number of users, real-time applications and mobile devices such as our Bedside Mobile Workstations (BMWs) on the network, it becomes even more important to ensure the redundancy and resiliency of our wireless network infrastructure.  Aruba's approach to high availability was a key factor in choosing its WLAN to replace our existing Cisco wireless infrastructure.  With Aruba, we have virtually eliminated our network downtime and the high cost and drain on IT resources that accompany it," he added.
ArubaOS 6.1.3.4 for Aruba mobility controllers is available now as a free software download to existing Aruba WLAN customers.