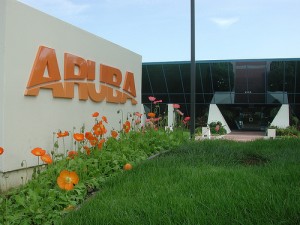 Aruba Networks today announced a new wireless LAN platform built to tackle to influx of mobile applications.
According to ABI Research, over 9 billion Wi-Fi enabled devices have been shipped since 2009, and Gartner predicts mobile application downloads are expected to hit 310 billion by 2016.
Faced with this massive increase in devices and applications, including the demand from users to connect their own personal devices, IT managers must ensure that their network infrastructure delivers top-notch performance and quality for business applications.
"Today's IT departments are faced with the challenge of providing better access to deal with onslaught of mobile applications – all while working within the confines of a typically tight budget," said Ammar Enaya, General Manager, Middle East and North Africa at Aruba Networks.
"Aruba is helping these customers address their requirements with a wireless LAN platform that not only delivers improved 'speeds and feeds', but offers true insight into and control of application performance.  With these industry-leading levels of visibility, enterprises can experience significant cost benefits as well as redirect their investments from traditional wired equipment, desk phones and expensive video equipment to an all-wireless model."
The Aruba 7200 Series with new Aruba AppRF technology is the only wireless LAN platform with the integrated application intelligence and controls to optimise application delivery, resulting in 11x better performance compared to existing solutions.
To accomplish this, Aruba AppRF software, which runs on the 7200 mobility controller uses Deep Packet Inspection (DPI) for Layer 7 insight to identify application traffic.  Then, using Airtime Fairness, QoS and integrated control of RF characteristics on the access points, the controller optimises over-the-air performance for each application type and user profile.  Aruba is the only WLAN provider to integrate deep application information with the ability to take action in real time to improve application performance.