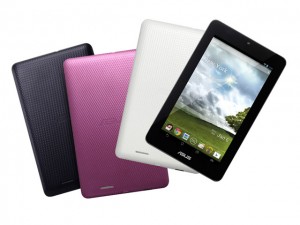 Following on from this year's Consumer Electronics Show (CES), Asus on Monday announced the Memo Pad ME172V, a seven-inch Android tablet that will be priced at US$149 (AED 547).
This is the latest tablet to join a pack of recently released Android devices that cost less than US$150.
Though the screen size is the same as Asus' Nexus 7, its specs are inferior. It has an 1024-by-600-pixel resolution display, a 1GHz Via WM8950 CPU, which is based on the single-core ARM Cortex-A9 processor, and either 8 or 16 GB of storage. By comparison, Google's Nexus 7 has a 1280-by-800-pixel screen and 16GB of storage, and runs on a quad-core Tegra 3 chip. The Memo Pad is also a tiny bit thicker and heavier than the Nexus 7.
The good news is that the Memo Pad does include a microSD slot for 16GB of added storage and a 1-megapixel front-facing camera. For software, the tablet runs a gently-modified version of Android 4.1, with the same app dock offered in the Nexus 7. Asus is also offering 5GB of online storage along with the tablet. A keyboard dock accessory will not be available for the tablet, so users will have to use the on-screen keyboard to type, Asus said in a statement.
However, while a $150 tablet from a well-known brand might have made big news one year ago, Asus now faces some tough competition.
At CES last week, Polaroid announced the M7, a seven-inch tablet with a 1280-by-800 resolution display, a dual-core processor, 8 GB of storage, a microSD slot and a 2-megapixel front facing camera. All of this is priced at just $129 (AED 474).
Not to be outdone, Archos announced the $119 (AED 437) Titanium 70 tablet, with a 1024-by-600-pixel display, a 1.6 GHz dual-core processor, and 8 GB of storage.
Though there are cheaper tablets around, they usually come from no-name vendors and have specs that are best avoided, such as resistive touchscreens, measly amounts of RAM, and outdated versions of Android without access to the Google Play store. But as top-notch specs are no longer necessary for a smooth experience, more reputable vendors are jumping in with last year's hardware, and knocking prices down.