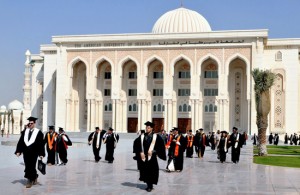 American University of Sharjah (AUS), an educational institution, has successfully deployed a comprehensive solution from ISIT Middle East, a data storage and security solutions provider, to address specific centralised IT storage requirements.
The solution includes a clustered storage array at the main site and is designed in preparation for a disaster recovery (DR) site which is under construction, enabling AUS' environment to have a highly-available and scalable storage solution.
The entire AUS community is managed effectively by the use of advanced file system virtualisation and quota management. By deploying NetApp Snap Mirror and Snap Vault DR technologies, point in time data availability is ensured at the DR site, the company said.
Mahesh Vaidya, CEO, ISIT Middle East, said: "The growing application storage requirements of AUS community are key drivers for the implementation of the new storage system. The need for capacity was growing and enhancements were essential to meet business requirements at the university. ISIT was involved from the initial phase of planning the new storage solution until the delivery of the project.
"ISIT provided various options related to new storage, optional components and a buyback offer for the current storage environment. At the university, ISIT coordinated all activities including site survey, delivery, scheduling resources and smooth integration of storage system."
The new system has given AUS flexibility to plan its IT services around the future vision of the university. The storage solution is compatible with the existing IT infrastructure and storage applications, and migrated into the existing storage infrastructure as part of the project implementation. The system is fully transparent to all AUS applications and community end users.
Ashi Sheth, Director of IT, American University of Sharjah, said: "The NetApp storage project spread out over three years gives us flexibility to grow university education streams and increase the number of faculty/staff and students. User access time experience has also improved as a result of upgrading from traditional disk technology to high speed disk technology along with enhancing network connectivity from copper to a fibre-supporting 10G network."
With the additional capacity and resiliency of the latest storage upgrade, a virtualized server environment running over one hundred production servers, all core business applications and AUS's Learning Management System have been migrated to the NetApp environment.
ISIT deals with customers in the region including established companies across the sectors of banking and finance, oil and gas, steel manufacturing, telecommunications, health insurance, and education to courier services. More importantly, ISIT offers storage and security solutions that are customised to meet the unique business needs of every organisation.
With a team of highly qualified engineers and consultants that are vendor-certified in a range of areas, ISIT plays a consultancy role that responds to diverse storage requirements and fits into the evolving needs of every customer's business. With a 24/7 on-site support service, it reflects the value it places on quality assurance and industry standards.