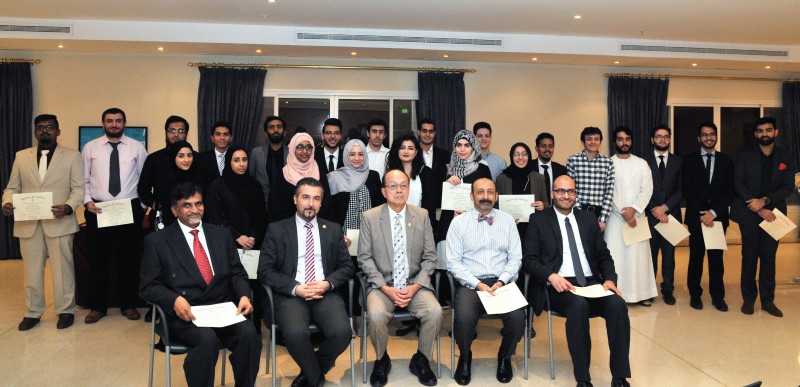 A chapter of international honour society Upsilon Pi Epsilon (UPE) has been launched at a special event held at American University of Sharjah (AUS), making the university the first educational institution in the Middle East to host the chapter.
The computing and information disciplines chapter has more than 270 chapters in the US, and was first established at Texas A&M University, College Station, Texas, in 1967 and is endorsed by The Association for Computing Machinery (ACM) and IEEE Computer Society (IEEE-CS), two of the largest computer organisations in the world.
The society plays a vital role in recognising and encouraging the academic excellence of students in computing and information disciplines.
Aside from presenting a host of networking opportunities to its members, the society also presents scholarship awards to active members and student members of the ACM and IEEE-CS.
It also provides a range of scholarships on behalf of its industry supporters, and is renowned for its Abacus Award, the society's most prestigious award given to an individual who, over several years, has provided extensive support and leadership to student-related activities in the computing and information disciplines.
Dr. Fadi Aloul, head of the Department of Computer Science and Engineering at AUS, said, "The Department of Computer Science and Engineering is very pleased to be launching UPE's first Middle East chapter here at AUS. The establishment of the UPE chapter bolsters the university's enhanced focus on research and innovation. UPE has a distinguished history and acts as an important bridge between academia and professional and industrial organisations in the field of computer science and engineering."
Students at the UPE chapter at AUS will form an executive council after being elected to their respective positions in the council, and will formulate a schedule to conduct various related activities throughout the year.
The launch event was attended by UPE executive director Dr Orlando Madrigal and 28 newly appointed UPE students from the Department of Computer Science and Engineering.
Earlier this year, AUS joined the Red Hat Academy, which is designed to turn academic institutions into centres for "enterprise-ready" talent by providing them with relevant Red Hat training.