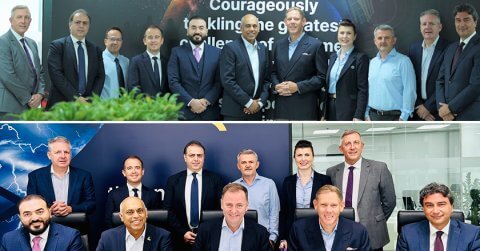 AVEVA, a global leader in industrial software, driving digital transformation and sustainability, has signed two contracts with Kent, the leading engineering company in oil and gas and low-carbon energy.
As part of a system integrator agreement, Kent will be enabled to implement life cycle digital solutions to industrial customers. The second contract is an enterprise agreement for engineering, procurement and construction (EPC) for Kent digital projects delivery.
These agreements are built on a strategic memorandum of understanding  (MoU) in 2022 between the two companies. Kent is now an AVEVA registered system integrator, ensuring the continued application of  AVEVA's engineering and operations software for key players in the energy sector. Over the past year, AVEVA and Kent have successfully delivered leading digital projects. The new system integrator agreement extends the potential of those gains to other companies.
Our continued partnership allows for better collaboration within Kent's team across all phases of project delivery while enhancing data integrity, transparency and project execution for energy customers. Thanks to Kent's industry and digital expertise alongside AVEVA's EPC4.0 and digital twin solutions, customers can realise on-time and on-budget deliveries of capital assets and enhanced operations.
Tush Doshi, COO, Kent, said, "AVEVA's software solutions will help Kent to deliver projects on time and on budget. We are pleased to build on our partnership with AVEVA as we strengthen our digital services. AVEVA's technology expertise, combined with Kent's leadership in energy and digital services, will help us create cutting-edge digital and innovative solutions that meet the evolving efficiency and sustainability targets of our customers".
Caspar Herzberg, CEO, AVEVA, said, "Our collaboration with Kent sets a new standard in the delivery of digital services for the energy sector. The strategic partnership combines Kent's deep domain knowledge, digital skills and service with AVEVA's leading-edge portfolio to accelerate decarbonisation, efficiency and drive sustainability across the energy industry. This confluence of expertise and technology will empower customers to connect intelligence and insight for agile and innovative responses to the sectoral challenges during times of change and opportunity".
Digital transformation improves project and sustainability outcomes
The agreements will bridge a significant market gap. Across the industrial world, 60% of oil and gas capital projects of $1 billion or more experienced schedule delays and 38% faced cost overruns, according to a 2019 analysis by consultancy firm EY. Such delays and overruns stem from challenges such as competing project execution priorities, issues with data reliability, and a lack of transparency and control throughout the project lifecycle.
As energy sector companies look to meet net-zero targets, they are harnessing digital technologies to optimise and de-risk capital project design and operations for improved construction and materials management, and to ensure emissions traceability.
The AVEVA and Kent partnership supports these evolving goals. Together with Kent, AVEVA will support energy sector clients in unlocking the competitive advantages of sustainability. New and existing assets can be designed for a net-zero world, and customers can understand the carbon impact of every process engineering decision. On-time and on-budget execution of capital projects can now be assured, with up to 30% greater engineering efficiency thanks to improved transparency and data-driven decision support.
To this end, the use of Integrated Operations Centre (IOCs) and a living digital twin ensures seamless collaboration across the value chain. With a single source of real-time engineering and operations data both on-prem and in the cloud, teams can make more informed process and equipment decision, and even go beyond capital project delivery to create new revenue streams – thus operationalising innovation.