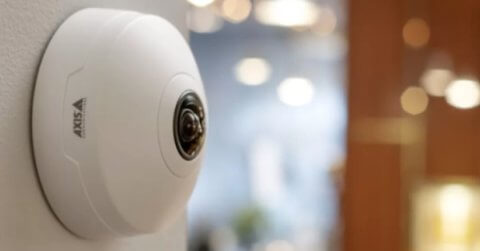 Axis Communications announces two new ultra-compact panoramic cameras designed for high-quality indoor surveillance.
Built on ARTPEC-8, these cameras combine outstanding video performance with excellent capacity for deep learning-based analytics on the edge.
Discrete and easy-to-install, these panoramic cameras deliver 360° or 180° views at up to 30 fps. AXIS M4327-P Panoramic Camera offers a 6 MP lens, whereas AXIS M4328-P has a 12 MP lens. They can stream up to four customisable dewarped view areas simultaneously. Additionally, thanks to Axis Lightfinder and Axis Forensic WDR, they ensure true colours and great details in challenging light or near darkness.
Including a deep learning processing unit (DLPU), these panoramic cameras enable improved processing and storage capabilities. This makes it possible to collect and analyse even more data than before—on the edge. Additionally, it delivers valuable metadata, facilitating fast, easy, and efficient forensic search capabilities in live or recorded video. Thanks to AXIS Object Analytics, it's possible to detect and classify moving objects in a scene — all tailored to specific needs.
Key features include:
180°/360° view up to 30 fps
6 or 12 MP with stereographic lens
Customisable dewarped views
Digital roll for easy installation
Support for advanced analytics
These ultra-compact, affordable cameras are quick and easy to install. With accessory casings available, they can be repainted to blend in with any surroundings. Furthermore, they're delivered factory-focused and with digital roll functionality it's possible to remotely adjust the rotation of the camera overview– no need to do it manually.
The cameras are available through Axis distribution channels.