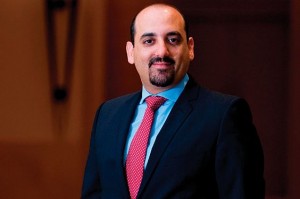 With the growing adoption of smartphones and the simultaneous surge in Internet use across the globe, banking and finance institutions (BFSI) are looking to invest in social media platforms to engage existing as well as prospective customers. This according to Wissam Khoury, MD of SunGard Financial Systems in the Middle East.
According to Khoury, the use of social media to build and maintain relationships with customers is a trend that BFSI can no longer afford to ignore.
"The idea is simple, these trends encourage information sharing across the organisation, its channel and customers and due to the surge in Internet and smartphone use across the globe, not leveraging social media, Internet and mobile banking, is risking being left behind and losing out to a competitor," said Khoury.
"Both mobile and Internet banking expose these organisations to a new range of security risks; besides,social media platforms come with the added responsibility of monitoring and managing these platforms. Despite some of the faults they might possess, these technology trends provide BFSIs with new age opportunities to interact with their customers, build a market following and generate marketing momentum," he explained.
Khoury added that automation and operational efficiency are two key requirements for the BFSI sector. The challenge associated with these elements is how best to integrate them using a technology to maintain personalisation as well as deliver competitive levels of customer service.
To help BFSI organisations in the region capitalise on rapidly changing dynamics across the region, SunGard is campaigning and developing software that delivers more transparency, efficiency and better networks .
"The world is changing and SunGard is developing solutions to help customers capitalise on that change. In a turbulent economy, it is essential for financial institutions to offer all its stakeholders a significant degree of transparency, ensure that this transparency is accessible through flawless networks to enhance overall business efficiency, ultimately enabling proactive decision making and customer retention," Khoury explained.
Khoury believes SunGard's USP is the sheer depth and spectrum of the solutions and services it provides.
"SunGard provides solutions that automate every phase of the investment process, with tools for portfolio managers, traders as well as operations staff. This solution includes understanding the need for a technology deployment, software consultancy and IT support services and service management among others ," he said.
SunGard Financial Systems, a global provider of mission-critical software and IT services to the BFSI sector boasts a whopping $20 trillion in worldwide assets being processed on SunGard's asset management solutions.
Khoury concluded with highlighting the need for building a credible knowledge based economy for the growth of the ICT sector in the Middle East. "Finding the right people with the right skills is a major challenge. Therefore, SunGard is engaged in efforts to attract international experts and encourage knowledge sharing through internships and regional forums that would help educate and develop a local pool of talent that further contributes to the growth of technology development and deployment in the Middle East," he said.