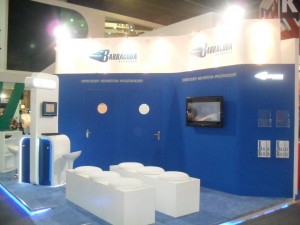 Barracuda Networks is exhibiting at GITEX and for the first time will be demonstrating its new Web Application Firewall 7.7 (Hall 1, stand B1-17).
At the event, Sherif AbdelElGawad, Barracuda Networks' General Manager Middle East and Africa, and Wieland Alge, Vice President and General Manager EMEA, will be available for comment on its strategy for the region, the IT security threat landscape and Barracuda Networks' product range.
"The Middle East and Africa region is exerting increasing influence on the global economy with technology acting as a prime enabler for this growth," said Wieland Alge.
"However as technology use increases so does the threat from hacking attacks, DoS (Denial of Service) and Internet viruses.  Our customers tell us that security remains the number one concern for many organisations and demand for Barracuda Networks' proven expertise and products is proving extremely high."
To cater for this demand Barracuda Networks has embarked on a channel-focused strategy for the region.
"Barracuda Networks continues to build a strong presence in the region to satisfy the increasing demand for security with local knowledge. With an aggressive channel partner recruitment drive in place, and partnerships with Redington Gulf and Alpha Data already signed, we're continuing to expand at a rapid pace," said Sherif AbdelElGawad.
"Our recruitment strategy remains focused on developing partners with specific sector skills and more partners will be announced in the next few weeks."