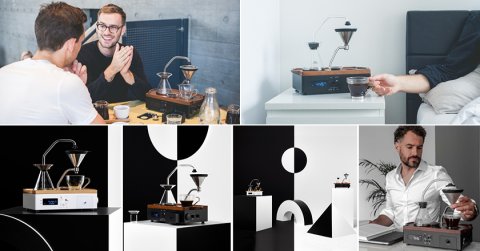 BeanBurds, the UAE's premier online platform for coffee enthusiasts, proudly announces the exclusive debut of the internationally acclaimed and top-selling product, the Barisieur by Joy Resolve in the Middle East.
Salem Ahmed, Founder and CEO of BeanBurds, said, "At BeanBurds, our mission has always been to serve the coffee community in the UAE with the finest coffee-related products and experiences. The Barisieur aligns perfectly with our commitment to providing coffee enthusiasts with top-notch, innovative products that enhance their coffee journey. We are proud to be at the forefront of bringing this award-winning device to the region and to contribute to the growth of the UAE's coffee culture".
The Barisieur is a premium alarm clock that eases you into your morning with the soothing sounds of bubbling water and the smell of the freshly brewed coffee or loose leaf tea. This product is available exclusively through BeanBurds in the Middle East, starting with the UAE.
The Barisieur is inspired by a combination of the modern ritual of filter coffee with the iconic vinyl record player, encouraging a nostalgic experience with the user. It was born with a digital detox in mind, where the design language is a balance between simplicity and mystified alchemy. Watch how the water magically transports from one vessel to another, showering over the coffee at an engineered temperature of 94C – perfect for brewing coffee.
The simple housing holds sophisticated technology. An induction coil is used to boil the water efficiently and safely in the vessel above. It has a milk vessel centralised in the base that's cooled at 3 °C due to the integrated Peltier cooler, which detects if milk is present due to an infrared sensor. A retro digital display to simply tell the time and set the alarm, which dims in low lit environments due to the integrated diode. There is a sealed drawer to store for coffee or tea which conveniently holds a stainless-steel spoon which sits in the stainless-steel lid.
Form follows function with all aspects of this design; the scientific borosilicate glassware sits on a charming walnut or rubber-wood timber tray, coming together to create distinctive new forms. The tray effortlessly lifts off the mid-century styled black or white base to aid transportation of accessories.
The mix of Scandinavian and timeless design makes the Barisieur feel at home whether it's displayed in the kitchen, living room or bedroom.
Founder of Joy Resolve, Josh Renouf said: "We are thrilled to collaborate with BeanBurds to introduce the 'Barisieur' to the Middle East. This product has been a labour of love, driven by our passion for innovation and creating cherished experiences for coffee lovers worldwide.  Our product vision encourages interaction, sentimentality and accessibility. Good design is at the core of every offering, each product adhering to our own strict guidelines on sustainability and functionality".