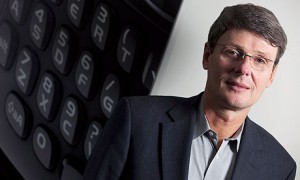 BlackBerry CEO Thorsten Heins has described Apple's iOS as an outdated user interface, and has suggested that the iPhone could be at risk of being replaced if Apple doesn't speed up its innovation process.
In an interview with The Australian Financial Review on Monday, Heins began by admitting that "Apple did a fantastic job in bringing touch devices to market."
"They did a fantastic job with the user interface, they were a design icon," he said. "There is a reason why they were so successful, and we actually have to admit and respect that."
Despite this, Heins warned that Apple will need to boost innovation for its next iPhone in order to continue to be a success.
"The rate of innovation is so high in our industry that if you don't innovate at that speed you can be replaced pretty quickly," he said. "The user interface of the iPhone, with all due respect for what this invention was all about, is now five years old."
BlackBerry is hoping to revive itself with its new BlackBerry Z10 smartphone, the top-of-the-line BlackBerry positioned to take on the iPhone 5.
Former Apple CEO John Sculley has recently said that he thinks Apple is currently experiencing a "lull in innovation" and that the company needs a new creative leap, and Apple co-founder Steve Wozniak has also voiced fears that Apple is losing its cool.
The launch of Samsung's Galaxy S4 last week also left many wondering whether Apple should be worried about the competition hotting up.
The appearance of the new "Why iPhone" advertising campaign just days after the S4's unveiling indicated that Apple could be feeling the heat, but some analysts have suggested that the Galaxy S4's advanced features may overwhelm some users, while analyst Katy Huberty has predicted that Apple's next iPhone will have a 'killer feature' that bests the S4.