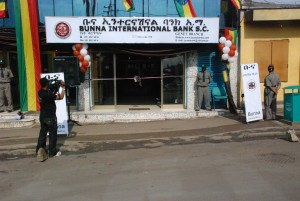 Bunna International Bank announced today it has partnered with Infosys to deploy Finacle core banking solution, as it attempts to transform its banking experience.
Finacle will enable the bank to integrate its front and back office operations and deploy a state-of-the-art loan origination system.
This will include automating the credit check and loan approval processes for risk-free and efficient loan disbursals. This transformation aims to help Bunna improve the overall banking experience for its customers.
"We have always believed that technology delivers a competitive edge in banking," said Ato Eshetu Fantaye, President, Bunna.
"Finacle gives us the flexibility we need to grow. This new solution, which will be implemented in a relatively short period, is the key to helping us become far and away the best bank in Ethiopia."
Finacle will also complement the bank's aggressive growth plans, which involves doubling its network to 35 branches within the financial year. This solution will give the bank an edge over competition by helping it meet customer and market demands with greater agility. Automated services of the core banking solution will ensure faster processing of front and back office requests and an improved turnaround time for customers. With this solution, the bank will also be able to bring to market targeted and innovative services faster than ever before.
Bunna's decision to deploy Finacle comes at a time when the National Bank of Ethiopia is mandating its member banks to automate their services. Part of the mandate calls for a National Payment System to facilitate automated settlements and inter-bank money transfers.
With Finacle, Bunna is not only well positioned to meet the regulatory demands but also has the added benefits of automating its loans and deposit operations. Using Finacle will allow Bunna to facilitate real-time processing of transactions and settlements of payments, which sets the stage for future innovations like mobile wallets and agency banking.
"Being chosen as Bunna's long-term technology partner is an exciting opportunity for us," said Amit Dua, Associate Vice President, Head of Client Services EMEA, Finacle, Infosys.
"As a forward-looking bank, Bunna has rightly chosen to leverage technology to power business transformation and growth. Finacle is the technology platform that can serve as an effective foundation for Bunna and other banks in Ethiopia as they find ways to engage more consumers."
As the local business partner of Infosys, MKTY IT Services Plc. Ethiopia played an integral part in introducing Finacle to the Ethiopian banking community. Since 1994, MKTY has been active in delivering technology-driven business solutions for the banking and financial services industry.