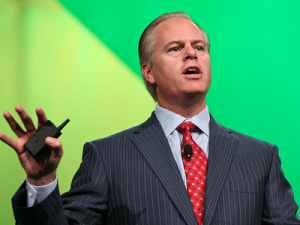 IT management solutions provider, CA Technologies, has appointed IT services industry veteran, Michael Gregoire, as chief executive officer (CEO), effective January 7, 2013, based in New York.
The decision was made by the company's Board of Directors, and was unanimous. He has also been elected to the Board itself.
"I accepted the position because I believe CA Technologies has a compelling value proposition, a strong reputation and a growing relevance for customers, software engineers, and partners," Gregoire said.
"[Gregoire] stood out in the field of candidates we considered, bringing to CA a compelling track record of success, leadership skills, operating expertise and software industry vision," CA Board of Directors chairman, Arthur Weinbach, said.
Gregoire succeeds William McCracken, who has held the reins since January 2010 and at the age of 70, is retiring, effective March 31, 2013. McCracken will also leave CA's Board on January 7.
McCracken will assist Gregoire in the transition until his set retirement date. In addition, CA has entered a consulting with McCracken to further help with the transition through December 31, 2013.
Gregoire's career in IT services spans 25 years. Most recently, he was chairman, president, and CEO of Cloud-based talent management software vendor, Taleo Group. He led the company for seven years, taking it through an IPO in 2005, and growing revenue from $US78 million to $US324m.
Before Taleo, he spent four years at software solutions provider, PeoplSoft, where he held the role of executive vice-president for its global services.
Gregoire also spent 12 years at EDS Group in numerous senior roles.