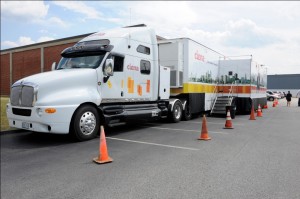 Ciena, the network solutions provider, today announced details of the Middle East tour of its 'EMEA Mobile Innovation Lab' – a demonstration truck boasting what the company said is some of the world's most technologically advanced networking technologies.
For the first time, Ciena is bringing its latest optical, ethernet and software solutions to the region, with demonstrations scheduled in Dubai and Abu Dhabi (UAE), Riyadh and Khobar (KSA) and Kuwait.
According to Ciena, customers will have the opportunity to learn about Ciena's vision for the evolution of networking, and experience first-hand the latest hardware and software innovation in the company's portfolio.
These include the world-leading coherent 100G optical transport technology, which allows telecom service providers to increase the capacity on their core networks tenfold, and transmit up to 8.8 Terabits of traffic per second on a single fibre pair – the highest bandwidth commercially available in the marketplace today, the company said.
Ciena experts will be on hand to demonstrate how the Innovation Lab solutions work in real life scenarios, it was reported.
According to the company, one of the demonstrations, which involves Ciena's intelligent optical mesh technology, shows how network downtime can be averted following incidents such as natural disasters or underwater cable cuts. Disconnected communication lines caused by fibre optic cable breakages today cost companies around the globe millions of dollars every year in lost business – much of which could be saved with the right level of protection and restoration on their global networks, Ciena said.
"Ciena's Mobile Innovation Lab will allow visitors to see first-hand how ISPs, telecom operators  and enterprises can build networks that will grow and evolve with them to withstand bandwidth demands of the future," said Saad Khan, Ciena's regional MD for the Middle East. "The demonstrations on board the Innovation Lab have gathered great interest in Europe, where the truck has toured in the last few months – and now also our customers in the Middle East will have a chance to experience the breadth and depth of Ciena's innovation up-close and personal."
Beyond high-capacity optical transport and the intelligent mesh, demonstrations on board the Mobile Innovation Lab will focus around applications such as provisioning of cloud-based services with live application migration, dynamic network virtualisation and bandwidth allocation, real time optical-layer encryption for increased transmission security, or high definition video distribution and protection.
The Ciena Innovation Lab Middle East tour begins in Dubai, where it will stop for two days from 15th December 2011. The truck will then head to Abu Dhabi, followed by a journey across the Kingdom of Saudi Arabia – with stops in Riyadh and Khobar – at the beginning of January 2012. The Lab will finish its tour of the Middle East in Kuwait in mid-January 2012.