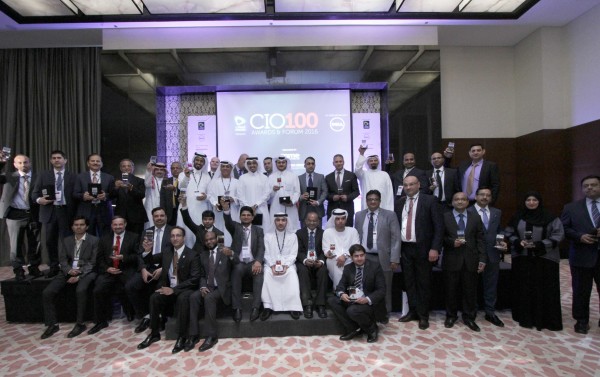 Information technology innovation and transformation leaders, yesterday, gathered for CNME's second annual CIO 100 Awards and Forum.
Held at the Dubai Address Marina Hotel, the event honoured 100 individuals who have demonstrated excellence and achievement in shaping the regional IT landscape. The prestigious awards recognised the many innovative ways that IT delivers competitive advantage or accelerates business success in the enterprise.
Jeevan Thankappan, Group Editor, Technology and Finance Division, CPI Media Group, kicked off the proceedings with a warm welcome address. "The tech industry is increasingly changing with new products and services in social collaboration tools, mobility, predictive analytics, cloud and other technologies being developed CNME's CIO 100 Awards aims to recognise companies and individuals who have shown great commitment to adapting new technologies to fuel further success to their organisation."
Thankappan also announced the re-launch of Security Advisor Middle East, a publication that puts the spotlight on the challenges and opportunities in the region's cybersecurity space.
The awards' proper was preceded by a forum which featured keynote presentations from CIOs who have shared their experiences and insights on transforming business processes within their organisations through IT.
Basil Ayass, Regional Marketing Director, Middle East, Dell, stood as the host of the gathering and gave the first presentation together with Shams Hasan, Enterprise Product Manager, Middle East, Dell. Among the keynote presenters are Tariq Al Usmain, CIO, National Bank of Kuwait; Mubarik Hussain, Head of IT, Petroserv; and Dr. Jassim Haji, CIO, Gulf Air.
Read the full analysis of the event in our upcoming February issue. The full list of honourees is shown below.
Computer News ME 2016 CIO 100

Mohamd Sabah, Tecom Group
Hasan Naji Al-Bahrani, Well Surveillance Group of Kuwait Oil Company
Saeed Al Ghailani, Department of Transport
Prasanna Rupasinghe, Kempinski Mall of Emirates
Ali Mohamed Al Ali, Health Authority – Abu Dhabi
Suhayed Jabbo, Magnolia RM Investment
Afra Al Shamsi, UAE University
Mehmet Akdeniz, Emirates Palace
Esam Alfalasi, Ministry of Economy
George Yacoub, SEHA
Ahmad Al Madani, General Pension & Social Security Authority
Samir Khan, African Eastern
Dr Saif El Ketbi, Abu Dhabi Airports Company
Arnab Debroy, Metito Overseas
Mohammed Saeed Al Shehhi, Statistic Centre
Mohammad Shahzad, Gulf Precast Concrete
Fahem Al Nuaimi, Ankabut
Mohammed Jameeluddin, UAE General Civil Aviation Authority
Farid Farouq, Dubai World Trade Centre
Sajeesh Nambiar, Bukhatir Group
Ahmed Ebrahim Al Ahmad, Nakheel
Dr. Ahmed Altheneyan, Ministry of Defence (Saudi Arabia)
Abdulla Al Bastaki, Roads and Transport Authority
Rusty Bruns, American University of Kuwait
Hussam Al Nowais, twofour54
Esam Hadi, Aluminium Bahrain
Amro Jaber Ahmed, Ministry of Higher Education and Scientific Research
Tariq Al Usaimi, National Bank of Kuwait
Alia Alkindy, Electronic Government Authority- Ras Al Khaima
Rahul Mistry, Marsa Malaz Kempinski, Doha
Terence Sathyanarayan, Drake & Scull
Vishal Sood, Perma-Pipe Middle East
Ajay Rathi, Meraas Holding
Ali Ghunaim, Canadian Specialist Hospital
Mubarik Hussain, Petroserv
Dr Tariq Taha, BankDhofar
Alaeddin Al Badawna, ADMA-OPCO
A T Srinivasan, Qatar Airways
Juma Al Ghaith, Dubai Customs
Abdulrahman Aloniazan, Arab National Bank
Sami Al Shammari, Oryx GTL
Vinay Sharma, Gulftainer
Robert Webb, Etihad Aviation Group
Rushdy Mubarak, Radisson Blu
Fuad Al Ansari, Takreer
Rabih Merhy, Amwaj Rotana
Hessa Obaid Al Suwaidi, Ministry of Public Works
Radi Karnib, Hilton Worldwide Northern Emirates
Baraa Khamis, Executive Affairs Authority
Maisam Zaidi, ALEC
Pierre Douelhy, Indevco Group
Thameem Rizvon, KoJ Group
Sofiane Benna, Masdar Institute
Samir Mayani, KBBO Group
Ahmad Al Nasser, UAE Ministry of Labour
Madhav Rao, Emke Group
Abdul Razack Dileep, Abu Dhabi Urban Planning Council
Mazen Chilet, Abu Dhabi University
Kirit Shah, Landmark Group
Husam Saleh, University of Sharjah
Hamad Rashid Suwaid, Qatar Gas Transport Company
Faisal Eledath, National Bank of Oman
Zohdi El-Saadi, IKK Group
Saket Prakash Wagh, Enhance Oman
Ramy Abdelwahad, National Marine Dredging Company
Sebastian Samuel, AWRostamani
M Sarangi, Port of Fujairah
M N Chaturvedi, Al Shirawi Group
Ramesh Cidambi, Dubai Duty Free
Abdulrahman Al Barguthi, Al Foah
Gopi Krishnan, Qatar Islamic Bank
Aliasgar Bohari, Zulekha Hospitals
Sean Yeong, RAK Investment Authority
Amit Kanchan, Landmark Hospitality
Roy Verrips, Hyatt Hotels
WIssam Ismail, Al Noor Hospitals
V Suresh, Jumbo Electronics
Yaqoob Alawadhi, Abu Dhabi Food Control Authroity
Kumar Prasoon, Safeer Group
Suresh Kumar, ADSIC
Dr. Jassim Haji, Gulf Air
Jawed Akhtar, Ebrahim Khalil Kanoo
Vignesh Unadkat, Thumbay Group
Dr Hazem El Khatib, Abu Dhabi Department of Finance
NSN Murthy, Avivo Group
Mohamed Imaduddin, Al Fara'a Group
Mohammed Raffi, Jotun Powder Coatings
Sulaiman Al Bassam, General Civil Aviation Authority, Saudi Arabia
Syed Abdul Majeed, Ahmed Seddiqi & Sons
Imad Taha, Belhasa Group
Girish Chouhan, Motivate Publishing
Muhammad Iqbal, Bindawood
Fady Sleiman, Waha Capital
Muhammed Albakri, Saudi Arabian Airlines
Mahmoud Kamal, Habtoor Hotels
Mustafa Shabbir Poonawala, Supreme Consultative Committee
Sreedhar Reddy, Aldar Properties
Javed Abbasi, GISBA Group
Mohammed Khaled, Regulation & Supervision Bureau
Ahmed Ishaq Kooheji, Saudi Diesel Equipment Company