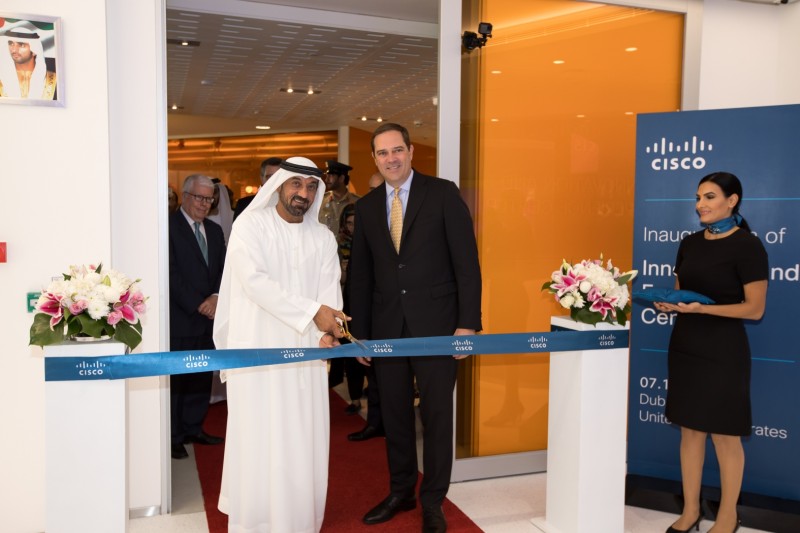 Cisco CEO Chuck Robbins and Emirates chairman HH Sheikh Ahmed bin Saeed Al Maktoum today launched the firm's 11th global Innovation and Experience Centre (IXC) at its Middle East regional hub in Dubai.
The IXC is part of a global network of Cisco innovation centres, and will work closely with Cisco's partner ecosystem to push forward new ideas and foster approaches that improve business outcomes.
The IXC aims to serve as a hub for open innovation and showcase solutions across 24 industries, including retail, hospitality, healthcare and financial services.
Visitors will have the opportunity to experience Cisco's solutions applied to real-world, real-time scenarios.
Businesses will be able to see how disruptive technologies such as automation, artificial intelligence, and virtual reality can transform their business and operations and solve challenges.
"The UAE truly believes in the concept of delivering better experiences for its citizens through digital services," Robbins said. "In today's highly dynamic, fast-moving world, we must accelerate our pace of innovation like never before. Our new Innovation and Experience Centre takes a unique approach that will help governments and businesses across the region develop solutions leading to greater opportunities for citizens and customers in the digital age."
"We are keen on cultivating a culture of excellence, innovation, and creativity in our bid to firmly establish Dubai among the most innovative cities in the world," said His Highness Sheikh Ahmed said. "Innovation has become a strategic imperative that not only drives growth for our economy, but also plays a critical role in the pursuit of happiness for citizens, residents, and visitors of our nation. Cisco's decision to base its Middle East Innovation and Experience Centre in Dubai reflects the city's stature as an emerging, dynamic global innovation hub and will support the region's organisations and businesses to raise the bar for innovation."
Cisco's vice president for the Middle East and Africa, David Meads, said that in the next "12-18 months" the Centre could also evolve into having incubator capabilities. "Innovation and the transition to digital are high priorities for governments across our region," he said. "The Innovation and Experience Centre is a statement of our intent and illustrates our commitment to the region."