CNME Editor Mark Forker travelled to Oslo to find out how IT behemoth Cisco is leveraging their extensive product portfolio to really reimagine the way we work in our new 'work from anywhere' world.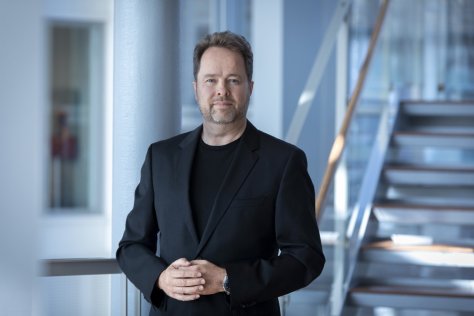 Cisco are a company that since its very inception have pushed the boundaries as to what's possible, especially when it comes to driving and delivering new innovations and technologies that are fundamentally designed to inspire and transform the lives of the end-users accessing their products and devices.
During a press trip to Oslo with Cisco, I was given the opportunity to take a look into the future to see how the company is positioning itself to be a champion and pioneer of hybrid working.
It's rather apt that I reference the word future, considering the first stop on our media tour was to a workspace hub called REBEL, that has been specifically established in a bid to foster and cultivate an environment that allows innovation to flourish across Norway.
However, what was really unique about REBEL, was the fact that the design and layout of the building appeared to be heavily inspired by the 80s sci-classic 'Back to the Future'.
Now, considering Marty McFly was a childhood hero, and this movie was one of my favourite films growing up, the press tour had got off to a 'flying start' from my perspective.
Upon our arrival at the REBEL HQ in Oslo, we were greeted by the company's CEO and Chief Rebel, Peter Jetzel.
His sheer energy, drive, passion and enthusiasm for what REBEL is aiming to achieve with its futuristic and collaborative hybrid workspace was infectious.
During our tour of the REBEL HQ, Jetzel, a former Google executive kept reiterating that the facility is designed to be a 'knowledge hub'.
He explained how REBEL is bringing thought leaders from various different industry verticals across the country under the one roof to share knowledge.
"Our mission with REBEL is to provide a platform for all stakeholders in the IT and technology ecosystem to come here and exchange knowledge. This is a knowledge hub. We want them to engage, collaborate, network, and ultimately be creative to solve the issues and challenges that only technology can resolve," said Jetzel.
REBEL has been such a success that companies that would typically compete against each other in the same market come together to share knowledge and ideas.
"We see market cannibalisation all the time on a global scale it's part and parcel of capitalism. However, within this environment, I have witnessed so many companies that are competing directly against each other in the market exchanging ideas and knowledge. They are not afraid of the other company stealing their idea, or something like that, now granted they won't perhaps tell them everyone they are doing, but there is a lot of transparency and trust. They are cognisant of the fact that by sharing information and knowledge with each other, regarding whether a specific project, or solution was feasible or not is in the best interests of everyone, as all this does is serve to fuel new innovations being developed within a quicker timeframe," said Jetzel.
Many businesses leaders have bemoaned the fact that despite the many benefits of hybrid working, it's hard to be innovative and creative as a team when working remotely.
There have been a number of organisations that have also expressed concerns that their 'culture' is being eroded, especially when it comes to the onboarding of new employees.
When asked was REBEL able to bridge the current gap that exists in our new world of work, Jetzel was emphatic in his response.
"You can't schedule innovation for a Tuesday morning, it doesn't work like that. It has to happen organically, and it can be hard for companies to retain that sort of innovation and brainstorming that is required in a problem-solving industry like IT and technology. However, this is what REBEL has been designed for. We have David Bowie, Doctor Who and the Back to the Future themed workspaces in order to create a completely type of work environment that is absolutely geared to fuel ideas and creativity. That's why so many companies from all over Norway are becoming part of REBEL, because they can use it as a space to be innovative and together, we are reimagining the future," said Jetzel.
We were then whisked off to the Cisco offices in the heart of Oslo for a number of product demonstrations and keynote presentations.
It was incredibly cool to hear about Cisco's new office in New York, and their plans for something similar in Paris in 2023.
We were treated to a pretty mind-blowing presentation from Jono Luk, Vice President of Product Management at Cisco, who outlined how Cisco's technology is helping NASA with their Moon expeditions, the first of which is expected to happen in 2025.
However, from my perspective the presentation from Snorre Kjesbu, Senior Vice President and General Manager, Cisco Collaboration Devices really set the tone when it comes to the both the current challenges of hybrid work and its future.
We know that the global COVID-19 pandemic fundamentally realtered the way we work, but interestingly, Kjesbu was adamant that hybrid working, despite its promises of flexibility and autonomy, is actually harder than the way we worked before.
"I think it's important to establish that hybrid working is both very different and harder than how we worked before. Let's examine some of the changes that have happened to our work norms over the last few years, take the office for example, it was at its core a place you went to work, now it's a place to meet, network and collaborate. Working from home was a rare exception, but now it is an extension of the corporate office. Video and digital collaboration tools were what would be labelled as a 'nice to have' – however, now they are no longer a luxury resource, but instead a fundamental requirement. Finally, everyone talks about the importance of culture, but culture in its current form is quite simply all about retaining and keeping your talent," said Kjesbu.
Kjesbu stressed the importance of reimagining workplaces and reimagining hybrid work.
"Some businesses feel that their culture is under threat because a lot of staff are working remotely, many have sort of compelled them to come in a couple of days a week, in the hope they will want to come in to the office more regularly. However, the issue has been that when employees have gone back to the office, they are doing the exact same thing they could do at home, so you can understand the contempt employees would have for that. They may spend an hour commuting to the office and home again, but they are not doing anything different in the office than they would be doing at home, so it really is so important we reimagine hybrid working to strike the right balance, and foster an environment that helps companies be creative and innovative when they need to be," said Kjesbu.
Kjesbu also disclosed some pretty startling statistics, one of which that in the next few years 98% of meetings will have at least one remote participant, and incredibly 6.2% of meeting rooms and classrooms are video-enabled.
He believes that collaboration in any location is key to delivering 'consistent experiences across workspaces' and said the future is very much multi-platform.
"In the current climate we have shared office space, home office, shared home office, conference rooms, hot desks, and the ability to work from anywhere. The key element in all of this is ensuring you are delivering a consistent experience regardless of which setting you are working and operating from. That is key. To achieve this, businesses need to adopt a multi-platform environment, it is critical. 85% of organisation support 2 or more meeting platforms, and that is essential for achieving consistency in terms of experiences. Hybrid work has certainly complicated manageability, but if we leverage the right technology with the right mindset then we can absolutely make hybrid work better than how we worked before, and at Cisco, we believe our portfolio of solutions and products are going to enable this to be a reality," said Kjesbu.