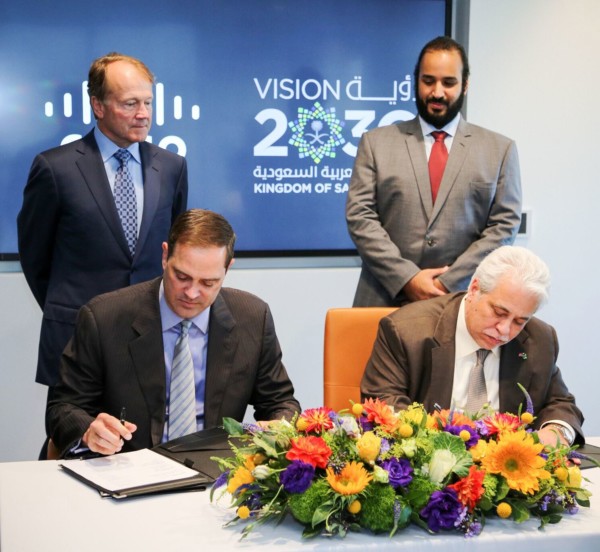 Cisco has recently signed a Memorandum of Understanding (MoU) with the Saudi Ministry of Commerce and Investment that sets a roadmap for an accelerated pace of digital transformation in the Kingdom.
The signing of the agreement follows a meeting between Saudi Deputy Crown Prince Mohammed bin Salman, Cisco Executive Chairman John Chambers, Cisco Chief Executive Officer Chuck Robbins and Cisco Saudi Arabia Managing .Director Abdullah Al-Swaha.
The MoU serves as a partnership framework and underlines Cisco's strategic commitment in support of Saudi Arabia's efforts to drive digital transformation at a country-wide level. Digitisation will play an important role as the Kingdom focuses on diversifying its economy and achieving its ambitious "Vision 2030" agenda, launched last April.
"This partnership reflects the Saudi government's priority focus on embracing digital transformation and capturing the many opportunities presented by country digitisation," said Dr. Majid bin Abdullah Al-Qasabi, Minister of Commerce and Investment, Saudi Arabia. "Developing a vibrant digital economy is a key pillar of our economic diversification plan and collaborating with global technology leaders is essential to bring expertise and know-how to our programme of development."
The memorandum outlines a multipronged approach through which Cisco will help accelerate Saudi Arabia's digital agenda and position the country for long-term prosperity in the digital age. Through their partnering, Saudi Arabia and Cisco will identify a number of collaborative opportunities in areas that include developing national IT infrastructure, accelerating business innovation, stimulating startups and enhancing research and education.
"Saudi Arabia has a bold plan for fostering an innovation, talent and entrepreneurship ecosystem that will shift the economy towards greater private sector participation and a more market-based approach," said John Chambers, Executive Chairman, Cisco. "The government and leadership have shown great appreciation of the importance of digitisation as a pathway to prosperity and to the achievement of their vision. This lays a strong foundation for Kingdom's success and we are honored to collaborate closely with them to realise the immense benefits that Saudi Arabia's accelerated digital journey will deliver."
Saudi Arabia is the largest technology market by far in the Middle East and with a young, fast-growing demographic, its market is weighted heavily towards technologically literate early adopters. Its strategic location also offers advantages of a technology hub that caters to over 350 million Arabic-speakers in the region.
Abdullah Al-Swaha, Managing Director, Cisco Saudi Arabia, said, "Since we started operating in Saudi Arabia nearly 20 years ago, we have been committed to investing in long-term programs that support economic growth and greater Saudi workforce participation. As Saudi Arabia embarks on an exciting new phase of development, our country digitisation acceleration programme will unlock unprecedented opportunities that harness the power of technology to deliver real, sustainable value to the Kingdom and its citizens."
As part of the collaboration, Cisco will make its global expertise in smart transformation, digital government, and connected healthcare and education available to the Kingdom.
Cisco will also play a leading role in the development of Saudi Arabia's ICT infrastructure, increasing digital skills and awareness and supporting the alignment of investment with government priorities.