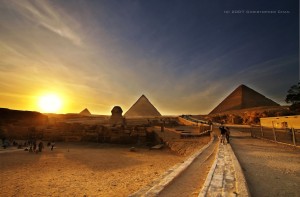 Cisco announced today that it will invest $10 million to seed a sustainable model of job creation and economic development in Egypt.
"The Egyptian government recognises that a properly functioning telecoms and information technology infrastructure is essential for attracting foreign investment and enabling the private sector and government to function more efficiently. The government's aim is for Egypt to become an IT hub providing IT-assisted teleservices to foreign companies. We therefore commend Cisco for this $10 million investment, which will help us promote economic development leading to enhanced opportunities for the people of Egypt," said H.E. Dr. Magued Osman, minister of communications and information technology of the Arab Republic of Egypt.
The venture capital investment will be targeted at small businesses that provide innovative products, services and solutions. Cisco believes that job creation and an environment that creates opportunities for Egyptian citizens are the key to sustainable economic development. Through this investment Cisco is demonstrating its commitment to assisting the people of Egypt to invest in meeting these needs.
John Chambers, chairman and CEO, Cisco said,"In addition to strategic investments, Cisco assists governments across the globe with ongoing advice, access to international best practices, and a vast array of state-of-the-art technology solutions. We believe there is tremendous growth potential in Egypt's ICT sector and are committed to supporting Egypt's, as well as MENA's, long-term goals. It is therefore appropriate for Cisco to make this investment into the Egyptian economy and its people."
Cisco also intends to engage in a multi-stakeholder collaboration to encourage further investment into the Egyptian economy from local, regional and global organisations.
Today's announcement marks another key milestone in the collaboration between Egypt's Ministry of Communications and Information Technology and its Information Technology Industry Development Agency (ITIDA) with Cisco in support of the information and communications technology (ICT) sector in Egypt.