Dubai, UAE, 26th July 2022: According to the new Cisco Global Hybrid Work Index, 78 percent of leaders and 66 percent of workers say hybrid work does not negatively affect their productivity, provided they have the right technology at their disposal. In addition, 61 percent even report improvements in quality of work. To further increase efficiency and flexibility for hybrid workforces, Cisco is introducing numerous innovations for its Webex Suite of collaboration solutions.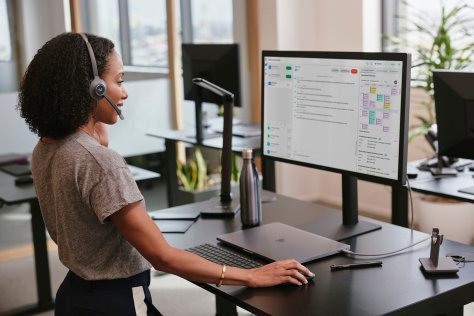 New Cisco Video Phone 
The Cisco Video Phone 8875 combines advanced calling and video meeting functionality. On the 7-inch touchscreen, the one-button-to-join meetings and click-to-call functionality – Webex users are familiar with – make it easy to join meetings and make calls. The Cisco Video Phone 8875 delivers:
Sharable functionality and personalisation for hot desking: Users can log into a Cisco Video Phone 8875 to access their Webex Suite profile, settings, and calendar. And with a QR code, they can simply login and authenticate their calling and video meetings to work at any desk, in any office for modern hotdesking.
Quality interactions and a better meeting experience: Cisco's audio intelligence powered by AI automatically reduces background noise and a 1080p display resolution enhances video quality, both of which were cited as top issues negatively impacting video meetings (source: Meeting Fatigue Research). A camera cover offers privacy during meetings.
Simple IT management: A single management tool makes it easy to manage the Cisco Video Phone 8875 for onboarding, analytics, rebooting, and problem reporting.
New Webex integrations – also with ThousandEyes:
Marketers have long relied on webinars as a way to reach global audiences at scale and create engaging experiences for their prospects and customers. However, for today's data-savvy marketers, webinars are not only a delivery mechanism but also a great tool to gain insight into behaviour and engagement, which helps them meet their demand generation goals.
The new Webex integrations with Eloqua and Salesforce help marketers seamlessly integrate their webinars with marketing automation and CRM platforms. With these integrations, organisations have a holistic view of the prospect journey and can respond to leads faster.
By integrating ThousandEyes with Webex Control Hub, IT administrators can easily diagnose and resolve quality issues with a user's video meetings, calls, and events. They can drill down into any Webex session and understand the network paths from wherever the user is working, including all routes that data travels. Once the problematic link is identified, Control Hub provides diagnostic information for understanding the issue and the cause.