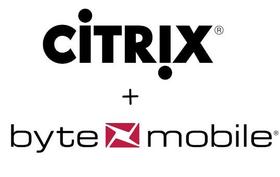 Citrix is moving into the mobile network optimisation market with its announced purchase of Bytemobile.
Bytemobile specialises in making data delivery on mobile networks more efficient in the face of increased consumption of multimedia content. The move complements Citrix's data centre optimisation technology, centred on its NetScaler suite of application delivery controllers (ADC).
"This is a great way for Citrix to expand into the mobile operator customer base. Citrix has been in the data centre optimisation space but they haven't been in the core of the network, and this is a way to expand into that territory," said Cindy Borovick, an IDC researcher who covers networking and application delivery.
Wes Wasson, SVP and CMO at Citrix, said mobile is the next logical frontier for Citrix to stake a significant claim. "The dominate consumption model in the cloud era is going to be through mobile devices," he says. "As a result of that, having a strategic footprint in mobile operating network is essential," he said.
Citrix says it will maintain all of Bytemobile's employees and the company will be integrated as a division within Citrix's cloud networking arm. Citrix did not release the purchase price, but company officials said they expect the deal to close later this summer.
Bytemobile optimises mobile networks though its Smart Capacity series of products, which give service providers better insight and control into what type of non-voice data customers are requesting and helps providers deliver it more efficiently. The company has 130 customers spanning the globe, including T-Mobile, Vodafone, MetroPCS, China Mobile and China Telecom, among others. Competing or similar services are offered by Ericsson and Ortiva Wireless.
Earlier this year, the two companies worked to incorporate Citrix's NetScaler technology into Bytemobile's adaptive traffic management system. Officials hinted at the potential of further integrations between the two companies moving forward. "We're not making any announcements today about specific integrations with device access and Citrix Receiver," which powers the company's virtual desktop technology, Wasson said.
"Obviously there are some clear synergies and you should expect us to be looking closely at those," he added.
For consumers, IDC's Borovick says the move should better enable providers to give customers access to the content they want. "The mobile video experience today is OK from a customer standpoint. Consumers will be looking for an update from service providers," she said.