IBM is pushing deep into the midmarket with a rich portfolio of solutions and cloud services.  In a chat with CNME, Andrew Monshaw, GM of IBM Global Midmarket sales and distribution, discusses how Big Blue is planning to increase its market share in this lucrative market.
How does IBM define a midmarket client?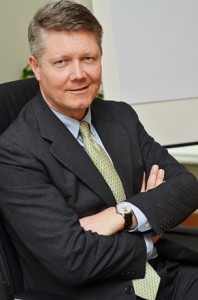 We generally define midmarket as clients who have less than 1000 employees and the reason we segment it that way is because they tend not to be self-integrators, and rely on local trusted business partners.
Is this region any different from more mature markets in terms of technology trends and purchasing patterns?
The trends that we see here are pretty much the same we see globally but where we are on the adoption curve of that trend is a little early here. Let me explain, if you look at the midmarket segment globally the adoption of public cloud service is quite high. For things like email, back-office, CRM etc., where they are on the adoption curve is now on up ramp. Everywhere I go, companies such as Salesforce.com and Sugar CRM are delivering applications to these clients as a public cloud service. Here in this region I think this change will happen and especially in countries where infrastructure and connectivityare not strong enough yet, it is poised to pop when these issues are solved.
What are some of the top technology priorities of midmarket CIOs?
We do a tremendous number of surveys and from an application standpoint, their top five priorities are CRM, security, business analytics, mobility and collaboration. What is really interesting is that we are also starting to learn about marketing executives and what their challenges are, in particular those who deal with consumers. They aren't prepared for social media and the challenges in its wake.
From a business standpoint, the employees of these companies want to use devices of their choice and CIOs have no choice but to deliver all the application experience on a tablet, smartphone or any other mobile device.  You also get to hear a lot about consumerisation of IT and in my personal opinion it is nonsense. There is a desire to have the attributes that you have in consumer IT experience, which is ease of application deployment, etc., but in a consumer world you don't think about the ramifications of consumer class IT. Recently, there was this big news about a large IT company taking the email addresses of their users without them knowing it. That is something you don't do in a commercial environment. But on the flip side,  those that deliver apps need to  deliver apps that can be used on a mobility device; they have a  whole set of challenges on being able to enable their service delivery to work in this new world.
You said the midmarket has taken to cloud services in a big way. Is there any reason why?
The adoption of cloud services in the midmarket is real quick and here is why. Our data tell us that an average client in this pace has between 5-15 IT staff and they cannot keep up with the amount of value being placed in the technology capabilities and they have to consume IT resources differently. They don't have the skill. For example, everyone wants business analytics but the midmarket users can't hire IT people to integrate sophisticated analytics packages or buy new servers to run these packages. Besides, in these uncertain times when access to capital is really tight, they don't have to spend upfront and can consume as they grow. If you remember 5-6 years back, everyone was talking about utility computing. What is different this time is that all applications that are being developed today are developed in a service- only model, which means you can't buy them as packaged software. You must consume them as a cloud service. That's the big difference.
Can you tell us a bit about the depth of cloud services that you offer?
There are mainly two paths to the cloud services that we offer. If you want to build a cloud by yourself, we teach our business partners how to supply content, consulting and how to enable, etc. Second part of our offering is the IBM SmartCloud Enterprise, and inside of that there is Foundations, which is a family of private cloud solutions, IaaS, PaaS and whole set of applications that have been cloud-enabled.
Your cloud services are pricier compared to the likes of Amazon. Do you have any plans to address that concern?
Our prices are right on top of Amazon but the big difference is that theirs is a consumer cloud and ours is a commercial cloud. When you buy capacity from us, you are buying capacity on the IBM cloud and with other providers you are taking their excess capacity from something that was built to run a different business. We have good SLAs, commercial-class SLAs, and what is probably the least understood thing in the market right now is what is the big difference between all these clouds out there. We have been outsourcing for clients for decades and we deeply understand data privacy, cross-borders issues, and we understand how to do this. All of these principles that we have learnt from decades of outsourcing have been applied to the way we offer our cloud services.
There has been a big shift in the way you service the midmarket. Is the focus more on empowering your partners to service this segment?
We have appointed a lot more people to enable our partners and we have also done a lot around territory optimisation. With our cloud services, partners can brand it as their own but powered by IBM. We have a whole new group of partners who deliver these hosted services and we are enabling our partners and these new partners. There is a whole eco-system around ISVs, our business partner channel and what we call MSPs.
So you are in a way admitting that your partners know more about specific market than IBM does?
Those are your words. My words would be there is a practical issue here – 80 percent of our business in this territory comes from 300 partners. We have more than 4000 partners but most of the business comes from 300 partners, so part of our job is to enable the next group to do more. The midmarket has a high-degree of relationship selling so we want these local partners to keep that relationship with their users.
You said business analytics is one of the priorities for midmarket CIOs. But the real question is, can they afford it?
Our primary business analytics offering is branded as Cognos, which comes in many different flavours.  Cognos is the fastest growing piece of software that I sell to our midmarket clients globally,in order of magnitude. Our value proposition is that we embed Cognos into applications that a client cares about. So we work with application vendors and they create a high value service they can sell to their client through embedding IBM business analytics. Now you can also download Cognos Insight for free on your desktop as a user to get started.
Do you have any solution or packages tailored for the midmarket? Is the Express portfolio one of them?
Yes and Express portfolio entails 190 offerings. We have 530000 midmarket clients globally and  we are growing about four times as fast as the market. We see addressable market opportunity at around 250 billion dollars globally. Some of the companies in the space don't even have IT budgets and they buy very opportunistically based on their ability to see how the solution will help their business grow.