The third annual CNME CIO 100 Awards recognised information technology and transformation leaders who have excelled in implementing innovative technologies and strategies to accelerate business growth.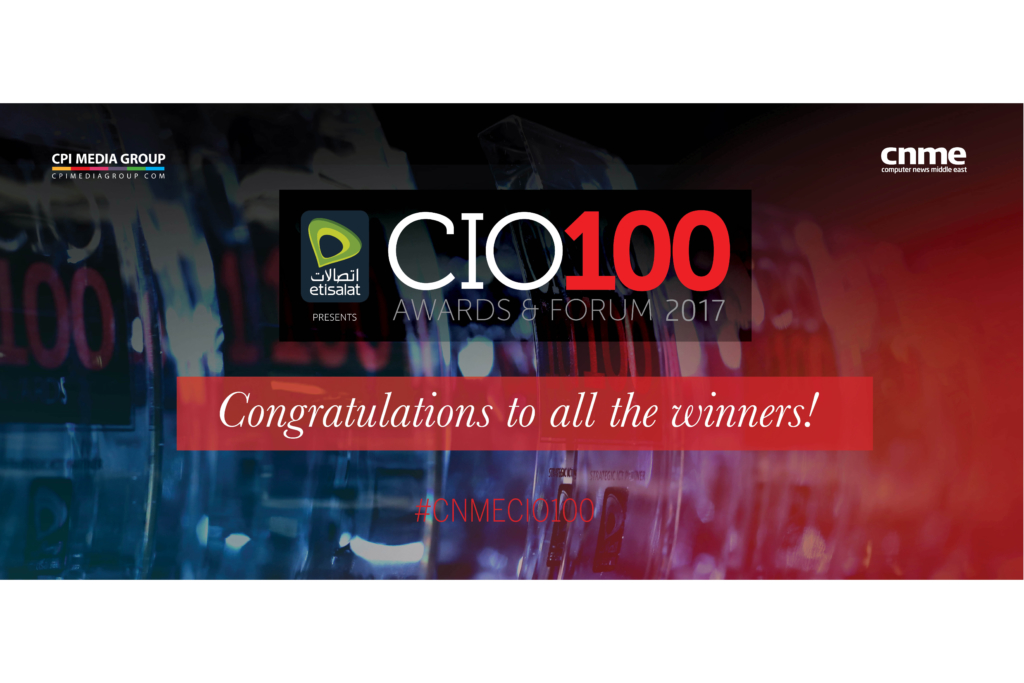 Held at the Ritz Carlton Hotel, JBR the event honoured 100 individuals –that have been selected from a pool of nearly 350 nominations – that have distinguished themselves by creating business value through the innovative use of technology.
Basil Ayass, Vice President and General Manager Middle East, Africa and Turkey (META), Dell EMC, stood as the host of the event.
CPI Media Group's technology group editor Jeevan Thankappan kicked off proceedings, and presentations followed from Dell EMC's infrastructure marketing manager Shams Hasan, Meraas Holding CIO Ajay Rathi, Al Hilal Bank CIO Gopi Krishnan and Terence Sathyanarayan, corporate director of IT, Drake & Scull.
Read the full analysis of the event in our upcoming February issue. The full list of winners is shown below.
| | |
| --- | --- |
| Name | Company |
| Abdul Nasser Al Kaabi | Abu Dhabi Media |
| LT. Col/ Saeed Helal ALKuwaiti | Abu Dhabi Police |
| Shabeer Mangattuparambil | Abu Dhabi University |
| AbdulRazack Dileep | Abu Dhabi Urban Planning Council |
| Ahmed Al Marzooqi | ADNEC |
| Sridhar Kasisomayajula | Al Ahli Bank, Kuwait |
| Gopi Krishnan | Al Hilal Bank, UAE |
| Ashith Piriyattiah | Al Masah Capital |
| Ahmed Alrefaei | Al Masraf |
| Ghassan Jumblat | Al Mawarid Bank |
| Mario Foster | Al Naboodah Enterprises |
| Kumar Prasoon | Al Safeer |
| Ahmed Askar | Al Sahraa Group |
| Mansoor Ali Khan | Al Tamouh Investments |
| Girish Varote | Al Zahra Hospital |
| Sreedhar Reddy | Aldar Properties |
| Marco van de Sandt | Alfanar |
| Rabih Merhy | Amwaj Rotana Jumeirah Beach – Dubai |
| Fahem Al Nuaimi | Ankabut |
| Suresh Muthuvadath | Apparel Group |
| Abdulrahman Alonaizan | Arab National Bank |
| Mukta Arora | Aster DM Healthcare |
| Manoj Vijayan | Aswaaq |
| Vikaas Bhatnagar | Avivo Group |
| Sebastian Samuel | AW Rostamani |
| Salah Ghaith | Bahrain Petroleum Company |
| Madhusuthan | Bahri & Mazroui |
| Suresh Kumar K | Byrne, UAE |
| Ali Ghunaim | Canadian Specialist Hospital (CSH) |
| Ahmed K. Alabduljalil | Civil Services Commission, Kuwait |
| Gareth Sherlock | Cleveland Clinic Abu Dhabi |
| Yousuf Abdulla Marhoon | Department of Municipal Affairs and Transport, Abu Dhabi |
| Abdalla Ahmed Mohamed Al Ali | DMCC |
| Terence Sathyanarayan | Drake and Scull |
| Hamdy ElSherif | Dubai Chamber of Commerce and Industry |
| Juma Al Ghaith | Dubai Customs |
| Mohammed Ali Abdulla Mohammed AlAbdooli | Dubai DED |
| Sivakumar Venkatraman | Dubai First |
| Amani Mahmood Mohd AlJassmi | Dubai Health Authority (DHA) |
| Venkatesh Mahadevan | Dubai Investments |
| Ahmed Mohammad Kajoor | Dubai Municipality |
| Mohammed Muthanna | Dubai South |
| Mohammed Bilal Hasan | Dulsco |
| Salem Saeed Al Ameri | Emirates Red Crescent |
| Sanjeev Mulay | First Gulf Bank |
| Mohammed Jameeluddin | GCAA |
| Deepika Batra DiGiovine | GE Digital |
| Jassim Haji | Gulf Air |
| Fahim Halawa | Gulf Capital |
| Vinay Sharma | Gulftainer |
| Ali Mohamed Al Ali | HAAD |
| Saji Oommen | Jaidah Group |
| Mohammad Raffi | Jotun Powder Coatings UAE LLC |
| V Suresh | Jumbo |
| Zuhair Lardhi | Khalifa Fund |
| Dr. Mohammad Alathel | King Abdulaziz City for Science and Technology |
| Dr. Mustafa Hassan Qurban | King Fahd Military Hospital |
| Abdulaziz Ahmed Abdulrahman Al-Duaij | KNPC |
| Shumon A Zaman | Lamprell |
| Amit Kanchan | Landmark Hospitality |
| Shailesh Mani | Life Pharma |
| Madhav Rao | Lulu Group International |
| Suhayeb Jaabo | Magnolia Investment |
| Rahul Mistry | Marsa Malaz Kempinski, The Pearl – Doha |
| Sultan A. Al Ali | Masdar |
| Nitin Bhargava | Mashreq Bank |
| Prakash Rao | McDonald's |
| Ajay Rathi | Meraas |
| Arnab Debroy | Metito |
| Khalid Al Kuwari | Ministry of Finance, Qatar |
| Lt. Colonel Ahmad al Mutlaq | MOI, Qatar |
| Wissam Chahine | Mubadala Development Company |
| Ahmed Ebrahim AlAhmad | Nakheel |
| Hamad Rashid Suwaid | Nakilat |
| Ahmed Alkindi | National Ambulance |
| Dr. Joseph George | National Bank of Fujairah |
| Sourav Sinha | Oman Air |
| Ahmed Moustafa El-Sayed El-Fouly | Ooredoo, Kuwait |
| Ronald D'sa | OSN |
| Dileep Somani | OTE Group |
| Vishal Sood | Perma-Pipe |
| Mubarik Hussain | Petroserv |
| Dr John Cherian | Philips |
| Abdulsalam Al Yafei | Qatar Aluminium |
| Youssef Al Sulaiti | Qatar Fuel (WOQOD) |
| Khamis Awadh Abulani | Rabdan Academy |
| Sanjay Khanna | RAK Bank |
| Angus McIntyre | RAK Ceramics |
| Nasir Al Ali | Sharjah Asset Management |
| Michael LeRoy | Sidra Medical and Research Centre |
| Christoph Lemser | Siemens |
| Firoj Kumar Rauta | Skyline University College, Sharjah |
| Riyad Salah | Souq Al Jubail |
| Adly Khairy Alshareef | Technical and Vocational Training Corporation (TVTC), KSA |
| Ali Saleh Al Ali | Thuraya Telecommunications Company |
| Rahul Mangalanandan Santhamma | Trojan Holding |
| Surendra Shetty | UAE Exchange |
| Anshul Srivastav | Union Insurance |
| Fady Sleiman | Waha Capital |
| Aliasgar Bohari | Zulekha Hospital |