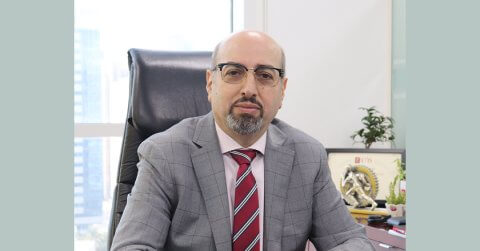 CNS Middle East, which has served as a regional leader in the IT market for over 35 years, recently announced the appointment of Asef Sleiman as the Company's new General Manager.
Under his leadership, CNS Middle East will be leveraging its legacy to enhance its reach and accelerate its expansion plans, with heightened presence across more industry verticals.
Mr. Sleiman is an IT industry veteran with 23+ years of experience in orchestrating successful business outcomes, structured and strategic selling, plus distribution management. Having been with CNS Middle East since 2018, his latest appointment is the direct result of his long-term commitment and contributions to the Company's success over the years. Mr. Sleiman's appointment follows his tenure at CNS Middle East as General Manager for the Abu Dhabi branch and Regional Director for the Innovation and Technology Business Unit, where he was an integral part of the CNS Leadership Team driving innovation and growth while delivering impressive commercial results.
Elaborating on the Company's new leadership, Hasan Metla, CEO of Aban Investment, stated that: "We are thrilled to welcome Mr. Sleiman to our Executive team. Throughout his time at CNS Middle East, he has had a remarkable ability to inspire and lead teams, and his exceptional strategic vision will be instrumental in propelling CNS Middle East to further new heights. With Mr. Sleiman at the helm, we are confident that we will achieve even greater milestones and deliver outstanding value to our clients and stakeholders".
Mr. Sleiman also spoke about his plans for the immediate future by saying that: "I am delighted to be spearheading the team at CNS Middle East and to be part of this very exciting stage of our journey. We will be hard at work leveraging our lengthy track record in the region as an innovative one-stop-shop, while building on our strengths with new technologies and services that will benefit both our current as well as potential new customers".
Further elaborating on the main opportunities associated with his new appointment, Mr. Sleiman went on to state that: "We will be focused on building greater synergy within our teams, while understanding the shifts which are shaping the IT industry's role towards becoming a more reliable and efficient business driver. By providing greater access to innovative solutions, CNS Middle East will continue contributing to the success of its clients".
CNS Middle East is also investing heavily in training its workforce on emerging technologies, including artificial intelligence, Internet of Things, data analytics, cyber security, and cloud solutions, amongst others. All efforts are geared towards facilitating cutting-edge solutions, tailored specifically to customer needs.