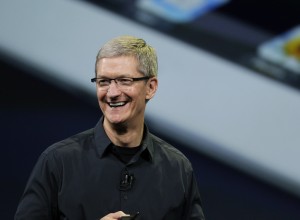 With more than two weeks still to go, the current winning bid on Charity Buzz's auction for coffee with Apple CEO Tim Cook at the company's headquarters stands at a whopping $600,000. 
A total of 84 bids have so far been placed on the auction, which began on Wednesday with an estimated value of $50,000. The winner will get to spend 30 minutes to an hour with Cook at Apple's headquarters in Cupertino, California. All proceeds will be donated to the Robert F. Kennedy Center for Justice and Human Rights.
The winning bidder is allowed to take one friend with them to the coffee date, where they will both be subject to security screenings. They'll also be responsible for their own travel and accommodation.
A statement on the Charity Buzz website says Apple will be expecting: "Polite manners and respect for the generous donor [Cook]."
Although the bidders remain anonymous, Macrumors has suggested some possible identities of top contenders. These include Larry O'Connor, the founder and CEO of Other World Computing, as well as Rory O'Neil, Vice president of Product and Channel Marketing at Blackberry.
With 15 days left until the winner is announced, we expect that the winning bid will reach extraordinary heights.