Commvault, as part of its Connections Live forum, will highlight how HyperScale technology will impact and can benefit Middle East organisations.
The one-day thought leadership event, is set to take place on 24 April 2018 at the Ritz Carlton Hotel in Jumeriah Beach Residence, Dubai.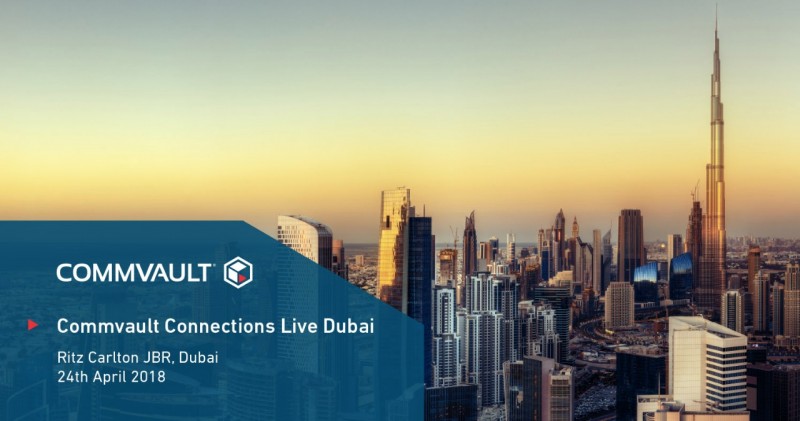 Connections Live will welcome industry experts, analysts, Commvault customers and partners from across the globe to assess the latest trends in cloud, data management, protection and back up. The impact of cloud on data will be high on the agenda at the event with Commvault showcasing how IT agility can be achieved through scale-out infrastructure and HyperScale technology.
The company's Area Vice President for the Middle East, South Africa and Turkey (MESAT) region Wael Mustafa said, "Commvault Connections Live is the only event in Dubai where our partners and customers can find new ways to simplify and automate their data protection and management strategies.
The event will also provide a platform for today's IT executives to network with industry peers and exchange insights on the latest data protectio strategies.
"Attendees will have the opportunity to learn first-hand from our customers on how they've modernised their backup and recovery systems to make sure information is always available no matter how complex the environment. We look forward to the opportunity to network with our partners and customers, and demonstrate how we can help develop their data protection strategies," added Mustafa.
Gartner principal analyst Santhosh Rao will deliver a thought-provoking session on the latest Middle East data centre trends and give tips on how businesses can improve their approach for backup, recovery and data management.
Sponsoring the event are Fujitsu and Cisco, as well as Logicom, StorIT, Hewlett Packard Enterprise, Huawei and CellInfo.
Commvault provides data back up and management services across the Middle East region, working with major organizations such as Emirates Steel, Dubai Municipality and STC. Commvault recently announced that it selected SETS as a strategic partner in the Levant region.