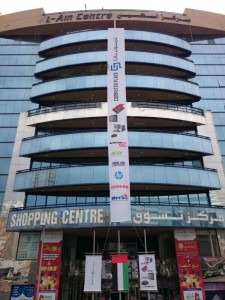 The Computer Plaza, also known as Al Ain Centre, in the heart of Dubai was once the only go-to destination for all IT products. Today, it competes with power retails, the likes of Carrefour, Jacky's, Jumbo Electronics and so on. And it's not an easy game, with power retails taking up most of the market share. This year, Computer Plaza is participating in Dubai Shopping Festival (DSF), an attempt to be at par with the big boys.
KU Shankri, Owner, Lucky Star Computers has taken the lead to bring the plaza together for DSF. Shankri, who has four shops at the plaza says, "We have enrolled ourselves in Dubai Shopping Mall Groups (DSMG) this year. In the promotion, which we are running, a customer who spends a minimum of 200Dhs has a chance to be the grand winner of 500,000Dhs through raffle draw." And apart from this, with the support of vendors, Computer Plaza is also organising another raffle draw, where customers could win gold after purchasing items worth minimum 1500Dhs in a single invoice. "Vendors such as Lenovo, Asus and Acer are also running promotions at the Plaza, hoping to attract an impressive footfall."
The Plaza is at the moment in a flurry of activities, from posters and banners everywhere announcing DSF deals, it is also undergoing light renovations. The investments for DSF is shared between the vendors and the shop owners in an 80:20 ratio.
The Plaza plans to participate in everything that the DSMG will organise throughout the year.
Background
Computer Plaza started out in the 90s with just a few players. And by 2008, before the financial crisis hit the market, the top players at the plaza were doing a sale of 4000 items a month. "This means there was no time for anything else. We were catering to Iran, Iraq and the wholesale markets," explains Shankri, reminiscing about Lucky Star's business.
After the 2008 financial crisis, power retails entered the scene and vendors wanted a pie from their market share. This was largely because these power retails were much bigger, better organised and had a tremendous reach. "This was when, we realised that perhaps our approach was misled. Why are we focusing only on wholesale? So slowly, we moved to the corporate sector as well," she further adds. Today, a major part of their business comes from corporate and the SMB sector. But from 2008 to 2011, it's considered to be the downfall of the Computer Plaza, largely due to lack of vendor and marketing support.
However, Shankri says, the players remained positive. "We didn't lose our charm.  If you compare 2008 to 2012, we have had a significant growth rate. In a way, Computer Plaza could be considered as one big power retail," she says. As Lucky Stars alone, today, sells about 2000 items a month, and its five other competitors at the Plaza are also making huge sales. So in a month, according to Shankri, more than 10,000 pieces are sold. Although competition is quite high within the Plaza, what keeps them alive, is ensuring a differentiation, explains Shankri.
If things works out, she hopes the Plaza can be considered as a single unit in the near future. "At the Plaza, the owners are running the business. But in terms of product knowledge and relationship with customers, our staff probably has an upper hand than the power retails, because we ensure technical training is done every fortnight, especially with new products coming in all the time. And we give the right advice to our customers depending on their requirements." Most shops at the Plaza boasts of loyal customers who have been coming in for over the last two decades.
Shankri is convinced that the Plaza will retain its old glory soon. And this is not only because of Expo 2020, she says. "We cater to the entire gamut of IT products, so it is a one-stop for all your IT requirements, from corporates to wholesalers and even end customers."