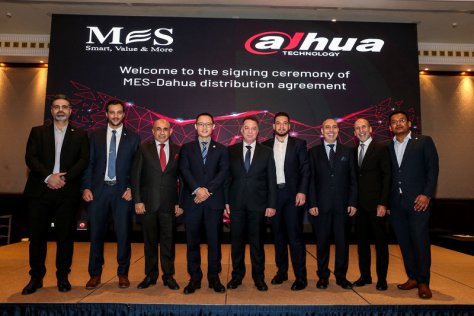 MES, one of the leading distributors of technology products in the Middle East, has been appointed as distributor in the UAE of non-CCTV products of Dahua Technology, a world-leading video-centric smart IoT solutions and service provider.
MES and Dahua formalised their agreement during a signing ceremony held on Monday, October 10, 2022, in Dubai. The cooperation reflects MES' efforts to expand its product portfolio and partner with prominent global technology brands such as Dahua.
Under the terms of their partnership, MES will promote and offer Dahua's monitors, access control, solar panels and batteries. Dahua will benefit from MES' broad national reach and expertise in meeting the technology needs of the country's major industries such as education, healthcare, hospitality, oil and gas and government.
Omar Lutfi, Managing Director of MES, said: "The partnership allows us to jointly push the boundaries of digital transformation through technologies that are vital to an organisation's transition to the digital age. It reflects our shared goal to offer intelligent tools that add value to entities across sectors while ensuring the highest customer satisfaction level. We are delighted to have formed this collaboration with Dahua and thank them for their confidence in us".
Brant Shen, General Manager of Dahua, said: "Both Dahua and MES share the same commitment to technological innovation and excellence, making our cooperation more vital at a time when the UAE is leading the way in the region's steady shift to Industry 4.0. This latest development represents Dahua's multi-pronged approach to strengthen its presence in the UAE and the rest of the region. We look forward to a fruitful partnership with the MES team".
Dahua's solutions, products and services are applied in more than 180 countries. It holds the distinction of being the second largest surveillance company in the world.
The partnership is in keeping with MES efforts to expand its business and product portfolios in the Middle East and Africa (MEA). To date, it has already established a strong footprint in the MEA region's more than 20 nations.