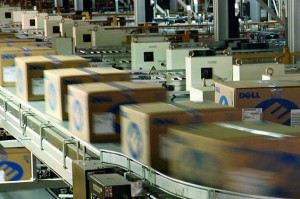 Workers at four Dell suppliers in China are allegedly enduring long overtime hours and facing exposure to toxic fumes, according to new reports from watchdog groups. 
Undercover footage was shot at the factories in China as part of a joint investigation, DanWatch and China Labor Watch said. At the factories, workers are allegedly living in cramped living conditions, and getting paid low monthly salaries of between US$358 and $489.
Overtime hours can reach 48 to 136 hours per month, resulting in the employees working between 6 to 7 days a week. In addition, the factories employ a large number of student interns, some below the age of 18, to carry out much of the intense work, the reports claimed.
"At two of the factories, workers reported being exposed to harsh fumes and chemicals everyday," DanWatch's written report said. "Workers also complain of skin rashes coming from indirect and direct contact with circuit boards while working."
The investigation covered four factories in China, all of which produce PC parts for Dell and other vendors including HP, Samsung and Microsoft, according to the watchdog groups. Attention was focused on Dell because the company supplies PCs to the Danish government. DanWatch is based in Denmark.
Dell said in an email the company has been auditing the four suppliers named in the investigation. "Three of the suppliers were audited this summer, with the fourth already scheduled for this month," the company said.
The company did not mention what was found in the audits. But Dell added that it will investigate the alleged labour violations raised by DanWatch's investigation.
The four factories under scrutiny are separately run by Mingshuo Computers, Hipro Electronics, Taida Electronics, and Micro-Star International, according to the watchdog groups. Their parent companies, all of them Taiwan-based, did not immediately respond to a request for comment.
Originally published on IDG News Service (Beijing Bureau). Reprinted with permission from IDG.net. Story copyright 2023 International Data Group. All rights reserved.