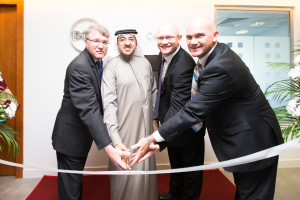 Dell has opened its Dubai Solution Centre to help customers in the EMEA Emerging region explore, test and deploy end-to-end solutions.
The 330 square metre facility consists of a data centre, customer meeting rooms and labs. The new Centre highlights a wide range of cloud computing, software, data centre and end-user computing solutions, and is Dell's 14th worldwide solutions centre.
The centre was opened by His Excellency Ahmed Bin Abdul Aziz Al Shihi, Underminister of Economy.
Dave Brooke, General Manager, Dell Middle East told CNME: "Dell is growing its business in the Middle East at a phenomenal rate, and the Dubai Solutions Centre is a first of its kind in the region. The Dubai Solutions Centre will provide a one-stop resource for customers who want to develop and test next-generation solutions that meet their unique business needs.
"This centre will provide our customers and partners with the perfect opportunity to test, learn, and understand the technology we have on offer. The interoperability and manageability of our systems will stand out through the demonstrations; at the core of Dell's values is the belief in open standards."
To date, more than 15,000 customer engagements have been completed at Dell Solution Centres around the world.
Dell has additional Solution Centre's in New York, Shanghai, Singapore, Chicago, Tokyo, Frankfurt, Paris and Sydney.
Brooke feels the UAE was the clear frontrunner for the location of Dell's next Solutions Centre, "Positioning our 14th Solution Centre in the UAE was a strategic move. The country has an ideal geographical location, is easily accessible, and is a leader in the field of IT," he said.
"This is a customer centre, open to existing and future customers. It's the perfect place for them to come in and test technology, see it in operation, and ask challenging questions."
He believes the centre will serve as an excellent forum for CIOs to map out
"With our large whiteboards that are installed as dividers in rooms here we can easily map legacy technology to new environments, such as virtualised cloud. This centre belongs to the CIOs. It is there for them, our customers and partners to use and to see the benefits of our solutions."
Dell has acquired several companies as part of its solutions strategy including Everdream, Force10, KACE, Ocarina, Scalent, SonicWALL, WYSE and Zing.