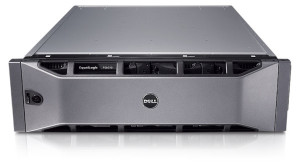 Dell has announced new enterprise technology to 'help customers architect new data centres and modernise campus networks'.
The new solutions include the the EqualLogic storage solutions to date and higher-speed wireless and simplified campus networking switches.
Dell claims the products help customers architect and build future-ready data centres which address customer expectations for instant access to information no matter if they are in the office or working remotely.
"Dell continues to be an increasingly important partner for enterprises of all sizes as we deliver innovative products to help customers solve problems in new ways," said Marius Haas, chief commercial officer and president, Dell Enterprise Solutions. "Today's announcements further redefine data centre economics with technology that provides unsurpassed product functionality and lower total cost of ownership to power modern workloads through storage and networking innovation. Dell's approach offers intelligent solutions that prepare customers with a future-ready data center built on a scalable architecture to support their data center growth."
Dell says EqualLogic storage technologies allow customers to scale from small environments to large data centres while addressing their needs for enterprise-class storage, that is "easy to manage and optimised for highly-virtualised environments."
Dell says EqualLogic can deliver 64 percent lower latency, 75 percent less rack space and 11 percent lower total cost compared to rival solutions.