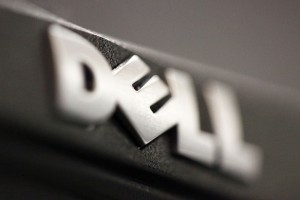 Dell yesterday reported a drop in profits for the first quarter, weighed down by a revenue decrease and slower sales of consumer products.
Dell reported net income of $535 million, down 33 percent from the same quarter last year. Excluding one-time charges, it reported net income of US$761 million for the quarter that ended on May 4, down 28 percent compared to last year's first quarter. Earnings per share was $0.43, compared to the consensus estimate of $0.46 from analysts polled by Thomson Reuters.
Dell's revenue was $14.4 billion, dropping by 4 percent year over year, while analysts expected revenue of $15 billion
Revenue for Dell's consumer division, which deals in PCs, tablets and other products, was $3 billion, declining 12 percent year-over-year. Revenue for the Large Enterprise unit, which deals in software, services and hardware for large companies, was $4.4 billion in the quarter, a 3 percent decline. A bright spot was Dell's Small and Medium Business business unit, which grew revenue by 4 percent to $3.5 billion.
Revenue for mobile products such as laptops and tablets fell by 10 percent, while desktop revenue fell by 1 percent. Dell was the third largest PC maker in the first calendar quarter of the year behind Hewlett-Packard and Lenovo, according to IDC. While worldwide PC shipments grew by just 2.3 percent, Dell's shipments fell by 2.1 percent year-over-year during the calendar quarter, IDC said.
Dell is moving away from the consumer business and focusing heavily on its enterprise business as it tries to increase profitability. The company has poured billions into research and development for server and data centre products over the last year. In the first quarter, the company made two big acquisitions including security company SonicWall and thin-client hardware and software company Wyse Technology.
Dell in early February also formed a software group, appointing former CA CEO John Swainson to lead the unit. The company also acquired a string of software companies, including Make Technologies and Clerity Solutions, which automate the migration of legacy applications to new systems, and AppAssure, which specialises in data backup.
The company continued its shift in the "mix of our business during a challenging environment," said Brian Gladden, Dell's chief financial officer, in a statement.
But Dell also has had to contend with lower demand in the consumer segment and slower enterprise demand for products in EMEA (Europe, the Middle East and Africa), he said in a conference call to discuss the financial results.
There has been a pause in IT spending in some countries, Gladden said, but an uptick is expected in the second quarter, with more spending in the education and government sectors.
Some customers could also be holding off spending on PCs with the expected release of Microsoft's Windows 8 OS, Gladden said.
The company expects second-quarter revenue to be up 2 percent to 4 percent compared to the first quarter.