Dubai, UAE, July 2022: DigiGlass by Redington, managed security services brand of Redington Value – the leading value-added distributor (VAD) in the Middle East and Africa, has announced a strategic Managed Security Services Provider (MSSP) partnership with Securonix, Inc., a leader in Next-Gen SIEM and XDR. As per the terms of the agreement, DigiGlass by Redington is now authorised to provide managed services for the Securonix Next-Gen SIEM platform for customers across the region.
Boasting more than 40 world-class cybersecurity vendors, Redington Value launched DigiGlass by Redington to cater to the rising digital economy's evolving cybersecurity needs. The dedicated consulting and managed security services brand covers applications, networks, endpoints, data, infrastructure, clouds, perimeters, and more, all with a range of service levels. The services include monitoring networks to help detect, identify, and respond to a multitude of known and unknown threats, enabling tech teams to prevent attacks from succeeding. Organisations can leverage a host of offerings from XDR-as-a-Service, Endpoint protection-as-a-Service, Identity-as-a-Service to Security Device Management, Managed Cloud Security, Managed SOC-On-Premises and Cloud, Vulnerability and Penetration Testing and so on.
The cybersecurity landscape is dynamic with new risks emerging at an accelerated pace. Hybrid work models and distributed workforces have led to expanded and complex attack surfaces. Businesses are looking to invest in modern cybersecurity offerings to successfully manage the increasing rate of vulnerabilities. Most organisations know that risks are increasing and expect a surge in reportable incidents this year. In fact, a recent Gartner report reaffirms that end-user spending on security and risk management in the Middle East and North Africa (MENA) region is expected to reach $2.6 billion in 2022, an increase of 11.2% from the past year.  In such a scenario, an effective Security Incident and Event Management (SIEM) platform can help build cyber resiliency and strengthen organisations' security postures.
The Securonix Next-Gen SIEM platform takes an analytics-driven approach to SIEM, helping organisations to automate security operations, collect data at scale and more effectively detect and respond to advanced threats with a cloud-native solution. As Securonix' MSSP partner, companies can rely on DigiGlass by Redington's expertise to manage their end-to-end cybersecurity environment, allowing them to prioritise their core business. They are also able to purchase the services as they need, on a subscription or consumption-based model.
Sheik Abideen, Regional Director, Securonix said, "Analysing and improving cybersecurity posture is not a human-scale problem anymore. On-prem, cloud, IoT, and hybrid environments have only added to the complexities for resource-strapped security teams. Building an in-house cyber security team is becoming a challenge for most customers. Today, they are looking to outsource their cybersecurity monitoring and response function to specialised partners. The MSSP partner, such as DigiGlass by Redington, with the Securonix Next-Gen SIEM platform, can quickly elevate customers' cyber visibility and response capabilities. We believe our partnership with DigiGlass by Redington can address the technology and skill gap for most regional security operation centres".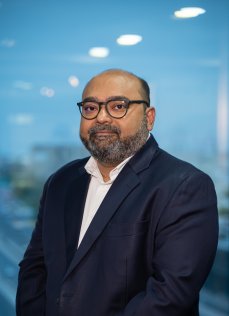 Sayantan Dev, President, Redington Value, said, "DigiGlass by Redington is excited to join hands with a market leader like Securonix. Our ecosystem can take advantage of the combined strengths and unique value this collaboration brings to the table. With growing cybersecurity risks, the pressing market requirement is tailor-made cybersecurity services to thwart cyber threats. Together with our partners, we look forward to transforming the cybersecurity landscape".