Dubai Land Department (DLD) has announced that further updates and upgrades have been made to its 'Ejari' smart application, which was launched primarily to protect the rights of landlords, tenants and property management companies.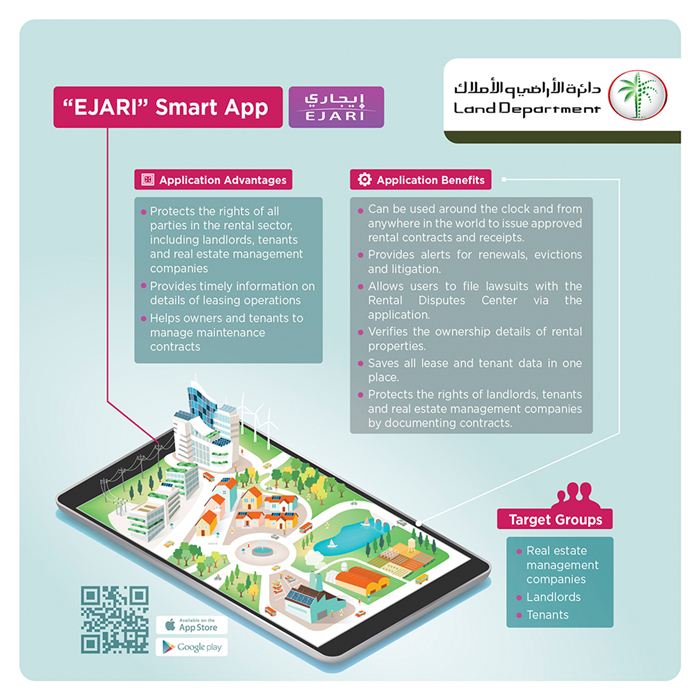 The application has reportedly proven to be highly effective and user-friendly, reducing the cost and time required to complete a variety lease management processes.
"Since its launch, the Ejari application has increased the efficiency of lease management processes including creating a new lease, renewing a contract and terminating a lease," said Mohammed Yahya, Deputy Executive Director of Rental Affairs Sector at DLD. "It has also reduced the cost and time required to complete lease registrations. Thanks to the regular improvements we make to the application, our customers can access instant information on the details of their leasing operations."
He added, "The Ejari application is a tool that enables both landlords and tenants to manage and apply for maintenance contracts. It classifies maintenance companies that are registered in the system for the convenience of tenants, while also allowing maintenance companies to register requests and contracts."
The Ejari application can be used around the clock and from anywhere in the world to issue approved rental contracts and receipts, and also provides users with renewal, eviction and litigation alerts.
The application also allows users to file lawsuits with the Rental Disputes Centre, and stores all lease and tenant data in one place. By documenting all contracts, the application contributes to protecting the right of owners, tenants and property management companies. Those interested in real estate can also use the application to access statistical reports on the rental market, verify the details of rental properties, and find real estate companies that are approved by DLD.
With the latest updates, the Ejari application now minimises the time spent visiting various offices across Dubai. When a new lease is issued through a property management companies or a Dubai Electricity & Water Authority (DEWA) accredited office, the customer will receive an automatic SMS and an e-mail from DEWA containing service instructions.
Yahya concluded, "By improving our various applications, we continue to fulfil our mission of making Dubai the world's smartest and most innovative city."