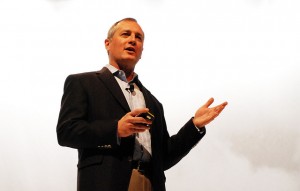 EMC Information Intelligence Group President, Rick Devenuti today announced EMC Documentum Platform 7.0, as part of the longest simultaneous product release of its kind, at the Momentum Conference in Vienna.
During the opening keynote speech at Momentum 2012, Devenuti claimed that the platform aims to deliver breakthrough performance and scalability, while lowering total cost of ownership. Built with the new EMC xCelerated Management System (xMS) technology, the latest release offers advanced capabilities to simplify and accelerate the deployment of Documentum into VMware-based private-cloud environments.
Devenuti addressed a packed out Messe Wein Congress Centre, stating that EMC had worked hard to help transform IT and businesses through research, analysis, and innovation.
"The new user wants to be as efficient at work as he is at home, why are employees not that productive at all times? This is the question we were asking," he said.
"The consumerisation of IT is the future and we have developed a huge range of innovative, industry leading products which take advantage of that. Documentum 7.0 is the best performance Documentum ever, it has increased response time tenfold and deploying new applications now takes hours, not days and weeks."
The main theme of the event focused on delivering a portfolio of solutions which allows employees to take advantage of consumer based products, whilst allowing businesses to be secure and confident that their data isn't at risk.
As part of the Documentum portfolio, Devenuti announced IRM 5.1, which he claimed gave employees all the access they needed to a data centre from any external device, whilst giving peace of mind to the IT team.
"Users are going to love these products. The unified, simplified approach is really exciting, it's totally changed the way we see business and the way we consume work projects," added Devenuti.
The Documentum platform is a secure, trusted repository of record for the unstructured information – documents, images, video, blogs – that runs a business. The Documentum platform helps companies protect valuable information, enable easy to access, share and repurpose information, and demonstrate compliance with regulations and policy.
Documentum 7 is packed with features to support productivity for the user and IT, at a lower cost of ownership. Through significant enhancements in session and memory management, under certain scenarios, Documentum 7 can deliver up to 50% lower CPU utilisation over the previous version, utilise up to 55% less memory at scale, and can offer an up to 6x improvement in user load – all with up to 3-5x improvement in end-user response time.
Devenuti claimed that EMC IIG has been hard at work to maintain its position as a top storage solutions company during a time of IT transformation.
"We have 61 fully certified applications now, this gives confidence to our customers. We're cloud focused, we're developing more public clouds, and we also realised the criticality of mobility. All of these factors are evident in our new product range," he said.
Joe Lipscombe is reporting live from EMC Momentum 2012, Vienna. Follow @Computernewsme for live tweets.