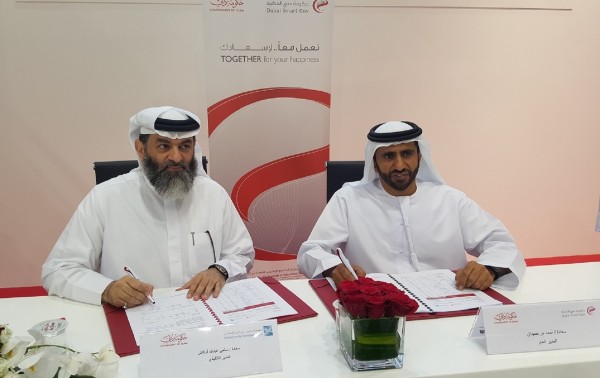 In line with the directives of His Highness Sheikh Mohammed Bin Rashid Al Maktoum, Vice President and Prime Minister of the UAE and Ruler of Dubai, the Dubai Smart Government Department (DSG) has recently signed a memorandum of understanding (MoU) with Mohammed Bin Rashid Housing Establishment (MRHE), under which DSG will provide technical support to the electronic and smart shared services provided to MRHE.
In line with the agreement DSG will provide the necessary support to the package of electronic and smart shared services which the MRHE will benefit from and specify the levels of support and priority-based response period as necessary to fulfil the leadership's vision of combining efforts to fulfill Dubai Vision 2021 and the ultimate goal of bringing happiness to customers. These services include the Government Resources Planning Systems (GRPS), Government Information Network (GIN), MyID, ePay, Government Service Bus, Correspondence Tracking System, SMS Dubai, eSurvey, Happiness Meter, eHost, eComplain, and eSuggest among others.
H.E. Ahmad Bin Humaidan, DSG Director General, said, "Utmost importance is attached to providing appropriate housing and all relevant services to Dubai citizens. DSG has a sophisticated infrastructure and enablers that MRHE can benefit from to upgrade its housing services, enabling citizens to get appropriate housing through multiple channels and highly efficient services to add more satisfaction and happiness to their lives. These services also enhance the optimal use of government resources with a view to ensuring the sustainability of the excellence and leadership process in Dubai City, which seeks to become the city with the most innovative ideas and solutions and the smartest city in the world and hence a genuine reference for all countries of the region in their bid to transform to smart government."
Bin Humaidan added, "The MoU is an embodiment of the themes contained in DSG strategy 2014-2017 which have been formulated in line with the initiative of HH Sheikh Mohammed Bin Rashid Al Maktoum, Vice President and Prime Minister of the UAE and Ruler of Dubai, and the directives of HH Sheikh Hamdan Bin Mohammed Bin Rashid Al Maktoum, Crown Prince of Dubai and Chairman of Dubai Executive Council, to speed up transformation into smart government with a view to ensuring the efficiency of smart transformation and optimal use of technological solutions, implementing the best practices and providing  modern smart enablers to the government entities to help them transform into smart government and provide connected and integrated shared services in such a manner that focuses on customers and their preferences and conforms with the smart policies approved by the prudent leadership."
Meanwhile, H.E. Sami Abdullah Gargash, Executive Director of MRHE, expressed his appreciation of DSG's efforts to work as a connected and collaborative government with the aim of enhancing government services to meet customers' needs. "This MoU is aimed at developing MRHE's smart services, which all focus on bringing happiness to citizens and improving their satisfaction," Gargash said, adding that the MoU would enhance mutual co-operation, raise the operating efficiency, reduce costs and boost the optimal use of the available resources.