Careem, the region's homegrown ride hailing app and only tech unicorn in the Middle East and Africa, has announced the introduction of an electric car type option onto the fleet.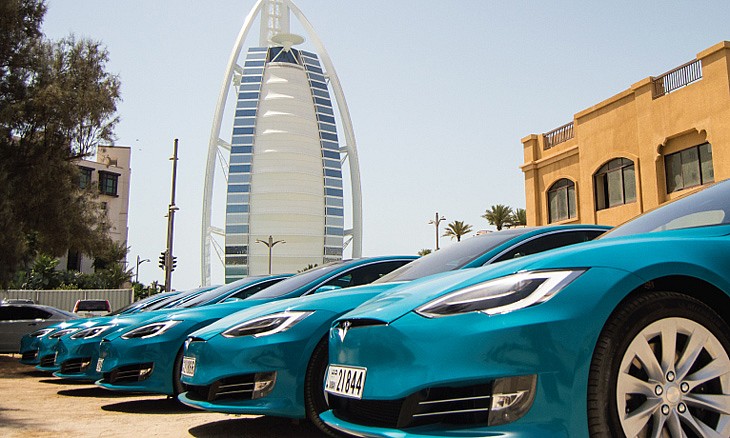 Available to book now, customers can opt for an electric vehicle when they are booking a scheduled journey anywhere in Dubai.
The fleet will be made up of turquoise, Model S Tesla cars and fares will be priced in line with the Careem Business rates, with a starting minimum fare of AED60.
The new car type is in partnership with ION, a newly launched joint venture between Crescent Enterprises, the UAE-based diversified conglomerate, and Bee'ah, a Middle East-based environmental management company. ION aims to accelerate the achievement of a zero-emission transport system in the UAE, and across the wider region, by driving a more sustainable approach to commercial transportation.
Commenting on the introduction of Careem Electric, Clemence Dutertre, General Manager of Careem in the UAE said, "Bringing customers the choice to book a more environmentally friendly option is something we feel very strongly about. Careem Electric also offers a top of the range, safe and fun car which works both as a luxury option whilst also being perfect for family and group outings. We think our customers are going to get very excited about this new option on the app."
HE Khaled Al Huraimel, Group CEO of Bee'ah, said, "As one of the fastest growing economies in the world, the UAE is in need of sustainable transportation solutions. Our joint venture with Crescent Enterprises, ION aims to meet this need, and achieve our shared vision for sustainability. As the leading ride-hailing app in the region, we believe Careem offers a great platform to make electric vehicles more accessible to the public. This partnership will transform the transportation sector in the country, making sustainable mobility a viable solution for all."