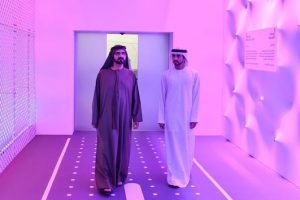 One of the world's oldest science and technology journals has labelled Dubai a shining example as a "City of the future", heaping the same praise on the UAE as a country.
American bi-monthly magazine Popular Science was founded in 1872, and has now turned its attentions to the 45-year-old country.
In a feature published in its May-June 2017 issue, the magazine highlights the country's potential for vast future industry,  saying that the UAE is no longer a country that anticipates the future, but one "where future is shaped through relentless efforts to adopt impending trends and technologies in government work".
It added that the UAE is rapidly becoming an exporter of science, technology, expertise, and talent. The article details the efforts of the UAE to transform into an open laboratory for testing and implementing the technologies of the future.
The article pays tribute to the work of HH Sheikh Mohammed bin Rashid Al Maktoum, Vice President and Prime Minister of the UAE and Ruler of Dubai, that was evidenced in the formation of the Government of the Future.
The magazine called the UAE "the Country of the Future" and "a regional and global pioneer", highlighting the vast pool of talent that is shifting away from markets such as the US and Europe.
Examples including Dubai Electricity and Water Authority's projects to harness solar power and the Roads and Transport Authority's efforts to advance the transit sector in Dubai, using drones were cited.
Popular Science went on to hail the Hope spacecraft that the UAE will launch in July 2020 on a seven-month journey to Mars.
In February, Sheikh Mohammed announced the Mars 2117 project which aims to build a city on the Red Planet within 100 years.
He said the UAE was currently among the world's top nine investors in space science.