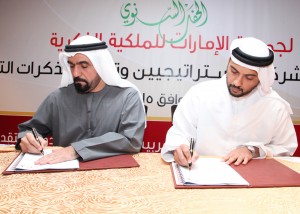 Dubai eGovernment on Saturday announced that it had signed a memorandum of understanding (MoU) with the Emirates Intellectual Property Association (EIPA) in order to support the development of EIPA's official website.
Dubai eGovernment said that this would be done through its eHost solutions, which is used to host government websites and portals.
The EIPA has been working hard to tackle intellectual property (IPR) and software piracy in the UAE in recent years, and stated that its agreement with Dubai eGovernment would add to its efforts.
"The new strategic partnership with Dubai eGovernment underlines our commitment to strengthen our co-operation with both the private and public sectors in promoting IPR protection and preventing the spread of software piracy in society," said H.E. Major General Dr. Abdul Quddus Abdul Razak Obaidli, President of the EIPA.
The eHost solutions relieve government and semi-government entities of the burden of establishing an independent online presence, and offers unified Web standards across all government websites.
"In light of its advanced standards and programmes provided to all government authorities and entities, Dubai eGovernment is set to equip EIPA with the latest infrastructure and online security systems as part of its efforts to boost its status in the digital landscape and promote the UAE as one of the leading countries in the area of IPR protection and in tackling software piracy," said Wesam Al Abbas Lootah, Assistant Director-General, Dubai eGovernment.
"eHost provides an advanced and secure infrastructure to address the various hosting requirements, from content management systems to full web management tools, in line with the latest state-of-the-art technologies. It relieves government authorities of the complex tasks and investments involved in building their own infrastructure, thereby reducing expenses."
Lootah also praised the EIPA for its efforts in supporting the UAE's plans for creating a secure digital environment, as well as for raising greater awareness about intellectual property and software piracy.